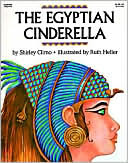 I read
The Egyptian
Cinderella
and I liked it very much! It was written by Shirley Climo and
illustrated by Ruth Heller.
The Egyptian Cinderella
is the Egyptian version of our Cinderella. In Egypt, there lived a Greek maiden
called Rhodopis who was stolen by pirates when she was a small child and sold
as a slave to an Egyptian master.
But because she is
Greek, and a slave, the Egyptian girls didn't like her. She had been given a
pair of rose-red slippers by her master because she danced so beautifully. When
a falcon swoops down and snatches a slipper away, Rhodopis is heartbroken.
How is Rhodopis to know
that the falcon has delivered her slipper to the great Pharaoh himself? She
can't guess that the Pharaoh will search all of Egypt to find the owner of the
tiny shoe and make her his queen. When the Pharaoh finally finds
Rhodopis, she is the only maiden that the slipper fits and the Pharaoh marries
her. This is how Rhodopis became the queen of Egypt.
In closing, The Egyptian
Cinderella is very entertaining and easy to read. It is interesting to learn
about the different views of other cultures and the illustrations are really
beautiful, too!
Win FREE
books! Enter a Kids On KidLit review today!
Rules and
instructions