---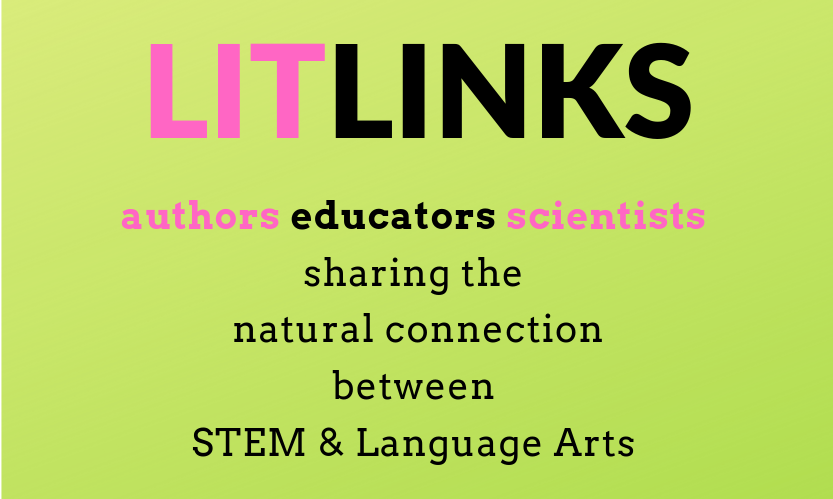 BY PATRICIA NEWMAN
I'm so happy to be able to contribute to this blog series that I created out of my love for science. Science is everywhere–the food we eat, the clothes we wear, the electronics we buy, the medicines we take, the cars we drive. When I visit schools I encourage students to think of science as more than a subject in school or something "they're not good at." I point out connections between science and the real world. As they become more practiced at spotting these connections, their engagement with the world around them increases, and so do their science communication skills.
I look to the headlines for connections to the real world. Endangered species. Climate change. Plastic in the ocean. These issues are ideal for students to write/read/speak about because they affect students everyday lives–and students' habits directly affect these issues.
The following two activities demonstrate how students can become involved in a headline issue AND simultaneously develop their science communication skills.
Headline: Borneo has lost half its orangutans due to hunting and habitat loss
If you've ever had the good fortune to stare into an orangutan's warm brown eyes, you probably recognized their intelligence. In the wild orangutans live on the islands of Sumatra and Borneo, but their habitat shrinks every year because farmers clear the land for palm oil plantations.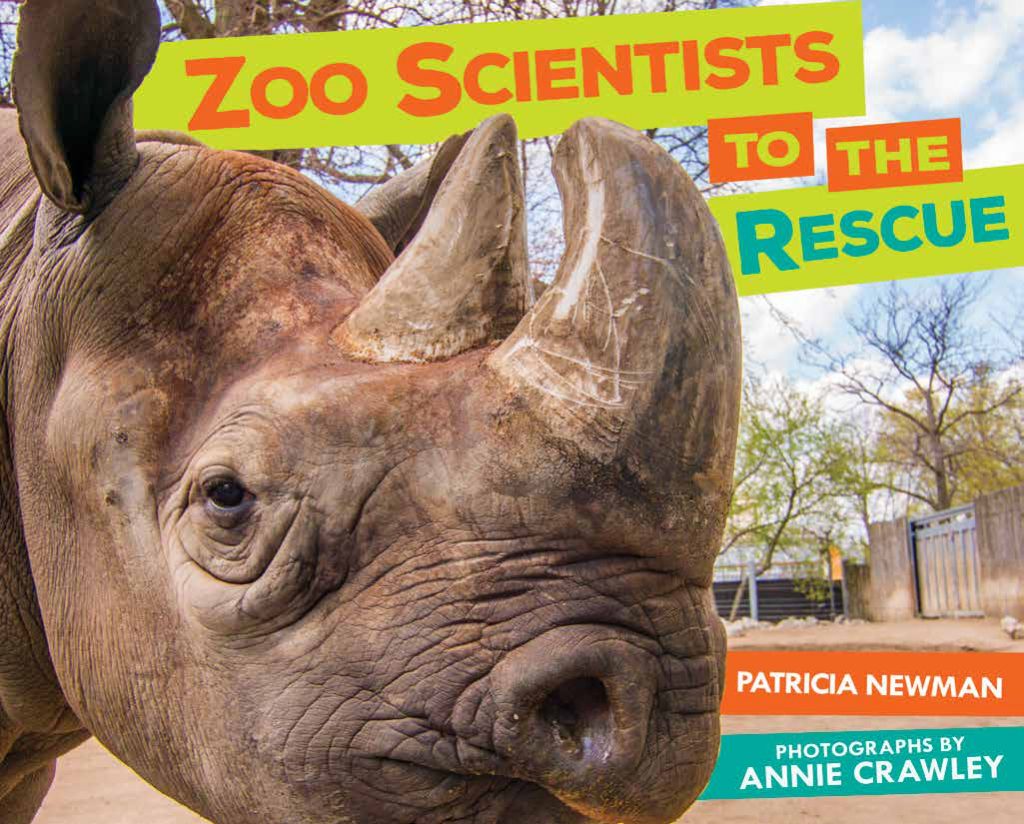 STEM Learning: Zoo Scientists to the Rescue and Palm Oil
This eye-opening activity incorporates technology, data collection, graphing, and science communication skills. It might just change your habits, too!
Read Chapter 1 – Treetop Teachers of Zoo Scientists to the Rescue to understand orangutan habits and habitat. Then read the pull-out section called "Is Your Cereal Killing Orangutans?"
Download the Cheyenne Mountain Zoo Palm Oil app on your smartphone or tablet. Audit several products in your classroom/house, such as snack foods, shampoos, lotions, and cleaners, to see how orangutan-friendly you are. Products will be divided into one of three categories: Excellent, Good, or Needs Improvement. For detailed instructions, and pictures of sample charts and graphs,
Science Communication Skill: Share what you've learned
Discuss the following:
How do we effect wild orangutans even though we live thousands of miles from their habitat?
How do we make better product choices that move the Needs Improvement products to the Good or Excellent columns?
How do we share what we've learned with others? (Ideas include in-school presentations and letter-writing campaigns to snack food companies)
What does it take to change a habit?
Headline: Ocean Life Eats Tons of Plastic—Here's Why That Matters
When I wrote Plastic, Ahoy! Investigating the Great Pacific Garbage Patch, ocean plastic was relatively new to the media. Photographer and filmmaker Annie Crawley and I documented one of the first scientific expeditions to study the growing problem.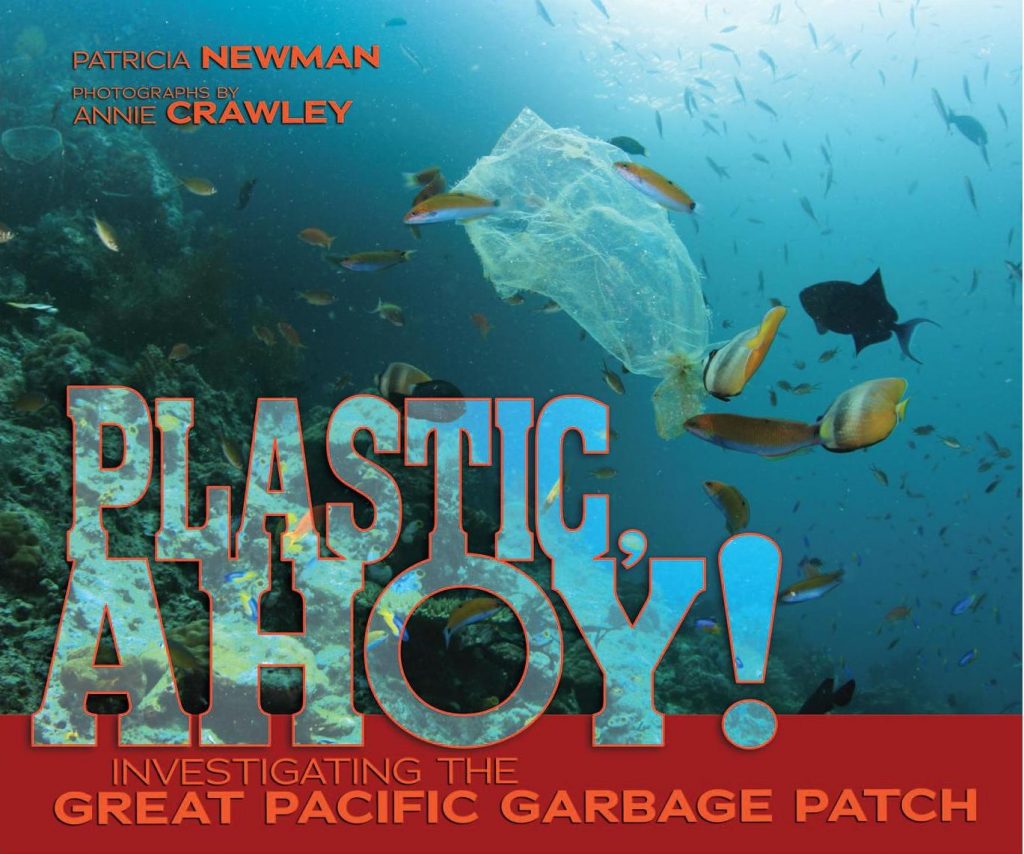 STEM Learning: Read and watch
Read Plastic, Ahoy! with students and then watch this short video Annie made. Pay special attention to the water on her dive.
Discuss the following questions:
Where did the plastic in the video come from?
Where will it go?
How long will it take?
Conduct a simple but eye-opening experiment to see how long it takes specific throw-away items to decompose. Students will set up two identical basins with the same items in each bin. Add water (or seawater). Place one bin outdoors in a safe, sun-soaked place. Keep the other bin indoors. Observe and record results (plus temperature and weather) over the next month.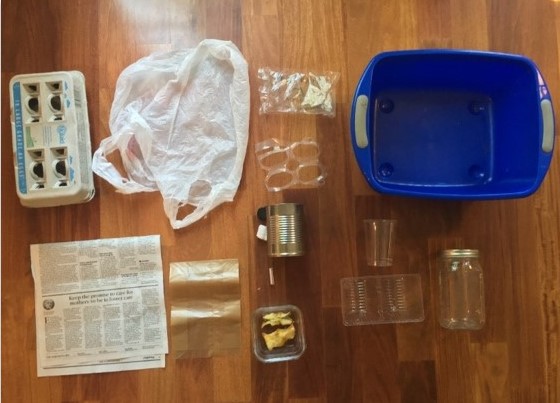 The lesson, called "A Degrading Experience" is from Turning the Tide on Trash: A Learning Guide on Marine Debris originally published by the EPA. The lesson includes detailed instructions and data recording sheets.
Use the button below to download the guide, and then turn to page 23 to begin.
DOWNLOAD PLASTIC AGING EXPERIMENT
Note: In addition to the aging plastic experiment, the guide includes a number of other valuable activity ideas. I was unable to upload the entire Turning Tide on Trash because it is too large a file. I've uploaded unit one. If you are interested in the rest of the guide, please contact me.
Science Communication: Empowering change
Similar to the orangutan habitat/palm oil activity, this marine debris activity is about changing our habits. In this case, we're focused on the ocean. Armed with their decomposition data from the experiment above, students can begin discussing ways to effect change.
Questions:
How can we reduce our single-use plastic consumption?
How can we share what we've learned with others? (Ideas include PSA video; a chart that says instead of using X, use Y)
How can we make changes in our school? (Ideas include the lunch room and how the school disposes of waste)
How can we make changes in our community? (Ideas include a letter writing campaign to local restaurants to lobby them to ditch plastic to-go containers, straws, and plastic bags)
Can we challenge ourselves to refuse single-use plastic for 30 days (see chart below for ideas)?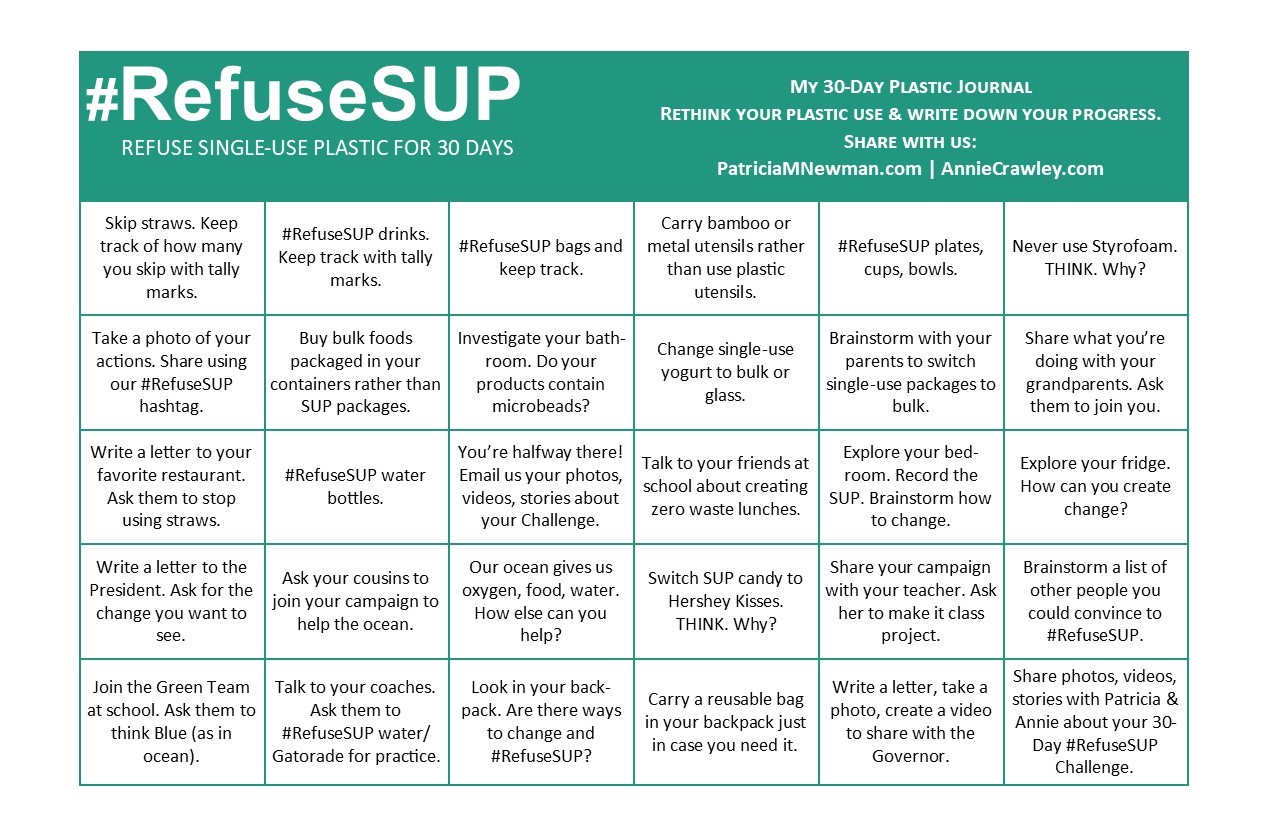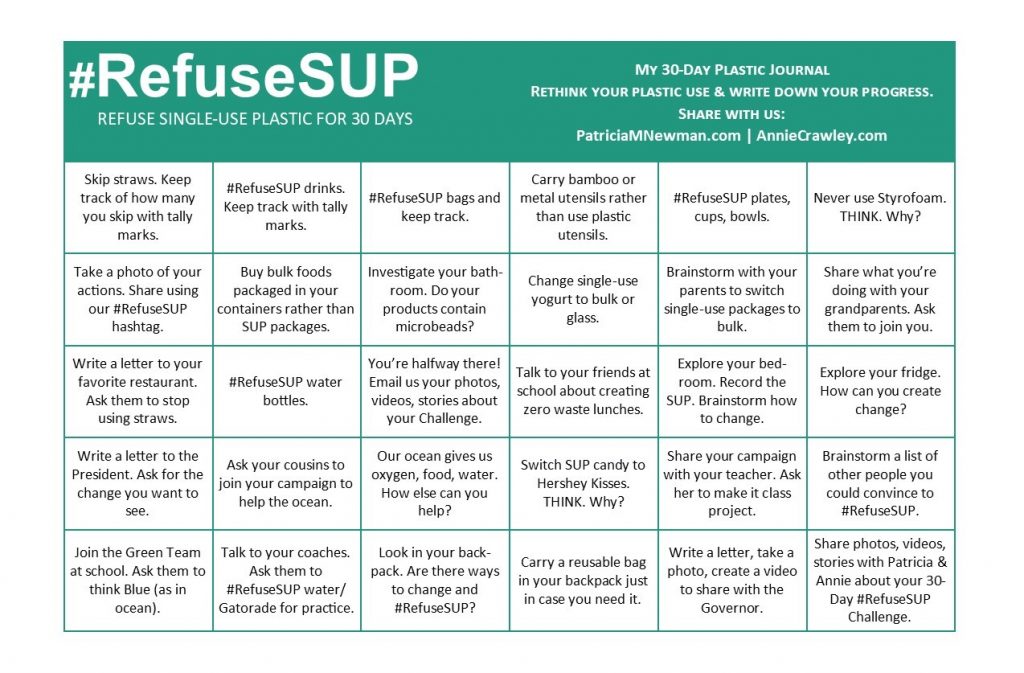 Extension
Compare and contrast Zoo Scientists to the Rescue and Plastic, Ahoy! You can include categories, such as:
The book design — the size, the shape, the color scheme
The genre — fiction or nonfiction
Text features — table of contents, photos and captions, charts and graphs, maps, glossary, source notes, and further reading
Themes — what is the author's purpose in writing each of these books. Do the themes overlap or not?
How do you feel after reading each book? Do either of the books inspire you to do something for our environment? How did the author accomplish this? How can you include these techniques in your persuasive writing?
---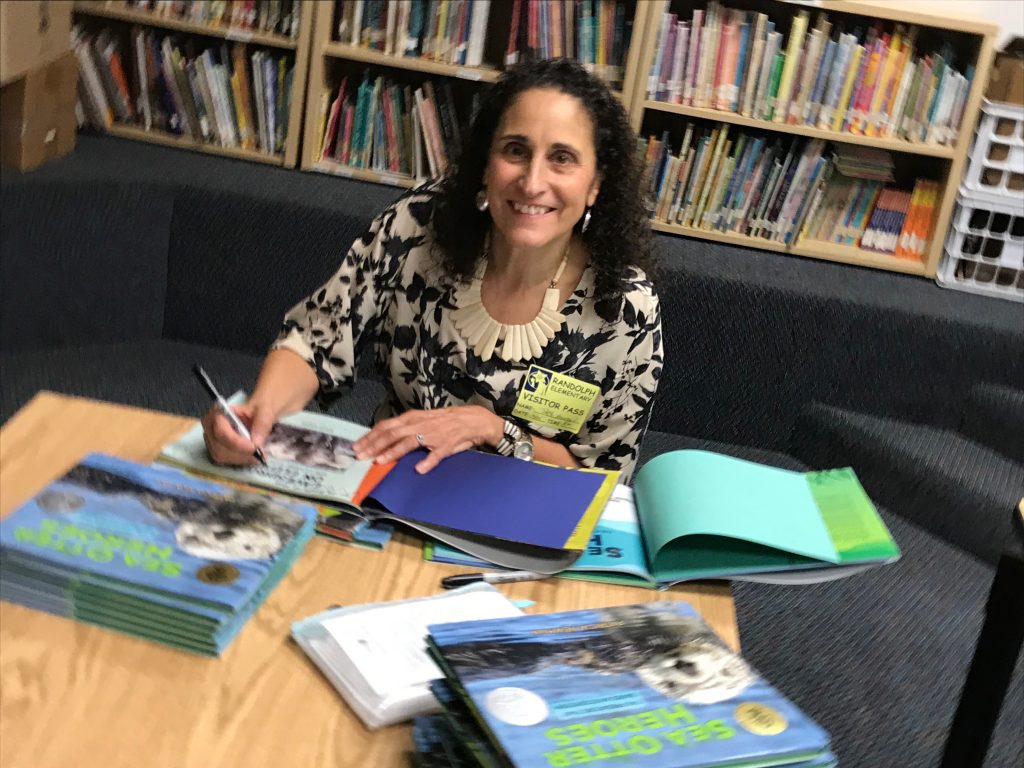 Patricia Newman is and award-winning author and the curator for LitLinks. Her books show kids how their actions can ripple around the world. She is the author of Robert F. Sibert Honor Book Sea Otter Heroes: The Predators That Saved an Ecosystem. Additional titles include the upcoming Planet Ocean; the NSTA Outstanding Science Trade Book Eavesdropping on Elephants: How Listening Helps Conservation; Plastic, Ahoy! Investigating the Great Pacific Garbage Patch, winner of the Green Earth Book Award; Zoo Scientists to the Rescue, a Bank Street College of Education Best Children's Book; Booklist Editor's Choice title Ebola: Fears and Facts; and
Neema's Reason to Smile, winner of a Parents' Choice Award.
Click the menu above to visit the rest of her website or follow her on Twitter at @PatriciaNewman.
---
Click for more LITLINKS STEM + Literacy activities