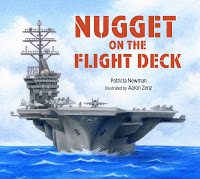 Dear Ms. Newman,
I just had to write to tell you how much I loved your book [
Nugget on the Flight Deck
].  I am a
retired children's school librarian and had taken my 9 month old grandson to
laptime at our local library when I saw your book sitting on the counter.
When I saw it, I had to have a copy.
One of my sons is currently an F-18 pilot serving aboard the USS
Enterprise.  He deploys again in March for a 7 month cruise, and when he
comes back he will have a 4 month old son (his first).  It will be the
first time that he will see the baby.  We are giving his wife a baby
shower before he leaves, and I bought your book as one of the many gifts I have
gotten for them, but I know that it will be Daniel's favorite thing.  I
can just picture him reading it to his son.   Actually, I bought 2 copies
of the book (that was all that was available on Amazon at the time)–one for my
pilot son and the other for my other grandbaby (who is the baby of the pilot
son's twin brother).  I'm going to have to buy another, though, because I
want a copy to keep at my house too.
Since my husband was a Navy pilot also, I am quite familiar with all of the
"pilot lingo."  You really did an excellent job of incorporating
the language on the ship into the story.  I particularly liked how you
italicized those words and had a running glossary along the bottom.  The
illustrator did a beautiful job, also.
It's funny because I've ordered and read many children's books over the years
that I have loved, but have never written to an author before.  However,
with a son flying off of an aircraft carrier, gone for such a long time, and in
harm's way, your book was not only emotional for me, but it was
just—–perfect.  Thank you for such a lovely book.
Sincerely,
Tina
P. S. I also liked your additions at the end of what jobs the different colored
shirts mean, the aviator's alphabet, and the carrier facts.