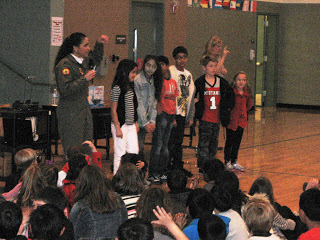 One of my favorite ways to wow students with the thrills of research is to demonstrate the size of an aircraft carrier when reading my book,
Nugget on the Flight Deck
. For instance, the weight of
each link
in the anchor chain is 360 pounds, but when you're in elementary school 360 pounds means squat. So I called six victims, er, volunteers to the front of the room to lay the comparison on them!
My favorite comment of the day came from a second grade boy after we read Jingle the Brass. (But before I tell you what he said, you have to picture Agnes from the movie Despicable Me who says, "It's so fluffy!" when Gru wins the unicorn for her.) Okay, so the boy clenches his fists, his whole body wiggling like a bowl of Jell-o, and says in a gravelly voice, "You're the best train teacher ever!"