If you are a teacher or have ever judged a kids' writing contest, you know kids do not write the most thrilling dialogue. Okay…usually it's downright awful.
In a recent school visit to Carriage Elementary in Citrus Heights, CA, I conducted a dialogue writing workshop with 4th, 5th, and 6th graders. When I've conducted this workshop in the past, the kids wrote their own individual scenes, but with a nudge from my writing pal and co-Regional Advisor for SCBWI, Erin Dealey (@erindealey on Twitter), I morphed the workshop into a group project.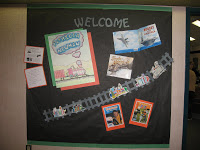 As writers and teachers, we all know dialogue serves several purposes, but for the workshop I focused on one–
moving the plot forward
. To start the workshop, I read a few lines of dialogue from some of my favorite books to illustrate how dialogue can move the plot.The students and I brainstormed topics on which we could write a scene between two people in conflict. The Carriage students and I worked together for about an hour proposing and rejecting lines of dialogue for our scenario. At the end, several pairs of volunteers acted out the scene–garnering lots of laughs!