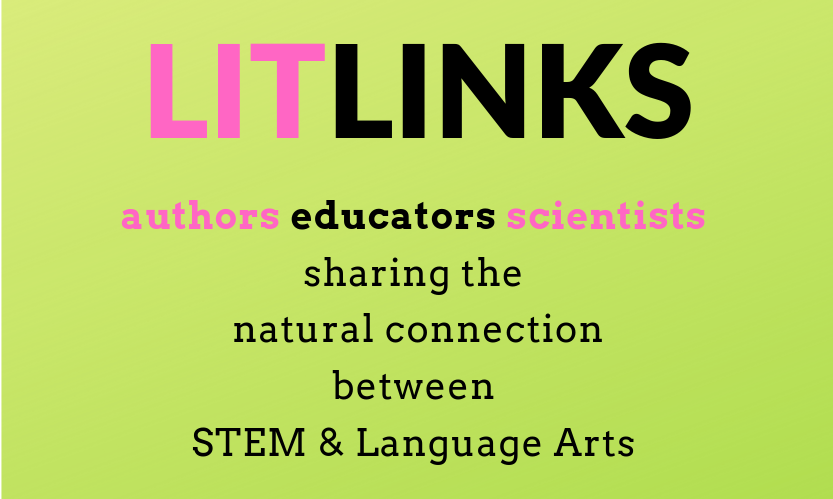 GUEST BLOGGERS DR. CHRISTINE ANNE ROYCE AND CARRIE LAUNIUS
A special Sunday edition of the popular LitLinks blog series
---
Editor's note: In this scholarly article, two noted science educators discuss STEM habits of mind and why they matter.
What are habits of mind?
Eureka! said Archie the Goat. And he paddled across the moat – just in time to meet the queen hurrying from the castle. (Berry, 2013).
What you may not know is the story that comes before this line in What Floats in a Moat by Lynne Berry. Archimedes the Goat and Skinny the Hen try to figure out how to deliver barrels of buttermilk to the queen. Although there is a drawbridge, Archie announces this is a time for science (and the authors would argue STEM) and goes through many trials before figuring out how the barrel of buttermilk would stay afloat.
Archie and Skinny used perseverance, persistence, applying past knowledge and many other traits or habits of mind to cross that moat.
In recent years, the idea of fostering a growth mindset in students has become a focal area. Helping students eschew a fixed mindset and teaching strategies that allow them to develop and solve problems is key for their future learning. Carol Dweck has defined each as the following
"In a fixed mindset, people believe their basic qualities, like their intelligence or talent, are simply fixed traits. They spend their time documenting their intelligence or talent instead of developing them. They also believe that talent alone creates success—without effort." Whereas, "In a growth mindset, people believe that their most basic abilities can be developed through dedication and hard work—brains and talent are just the starting point. This view creates a love of learning and a resilience that is essential for great accomplishment." (Dweck, 2015)
The key takeaway: abilities and understandings can be developed.
Often, these abilities are referred to as habits of mind which is a typical way that a person can approach a situation, task, or problem. Over time, these habits of mind have been described using many different terms, however, habits of mind benefit anyone who chooses to use and develop them.
Habits of mind within the STEM fields
When the American Association for the Advancement of Science published their Project 2061: Benchmarks for Scientific Literacy, there was a benchmark called "Habits of Mind." Within the Benchmarks, there is an important point that these habits of mind comprised several different areas and were transmitted from one generation to the next and long before schooling was formalized.
"Throughout history, people have concerned themselves with the transmission of shared values, attitudes, and skills from one generation to the next. All three were taught long before formal schooling was invented." (AAAS, 1993)
Today, we have the Next Generation Science Standards that discuss Science and Engineering Practices, the Mathematical Habits of Mind outlined in the Catalyzing Change series by NCTM, the Common Core for Mathematics which address Standards for Mathematical Practice, and Technology and Engineering Practices outlined in the Standards for Engineering and Technological Literacy. There is great overlap in these content area practices and the sixteen habits of mind that have been defined by Arthur Costa who was an early and leading researcher in this area. For example, asking questions and solving problems appears in some format in each set of practices. In the following outline, Costa explains the Habits of Mind:
Illustrating and modeling habits of mind within literature
The use of children's literature within the science classroom has been well documented to enhance literacy, integrate other subjects, and help students (and adults) engage with science, mathematics, engineering, and technology content. Books of all genres add to and enhance children's understanding of content and can illustrate and model the habits of mind.
Take for example Archie the Goat who is trying to cross the moat. Archie had a problem to solve which was to deliver the barrels of buttermilk to the queen in the castle. We will ignore the fact that he could simply use the drawbridge as pointed out when Skinny the Hen proclaims "or…we could just take the drawbridge." Archie and the somewhat reluctant Skinny proceed to work through the problem and decide to build the SS Buttermilk. Through the trials, the barrel floats too high when empty, sinks, when too full, and both floated and sank when just half filled. Archie demonstrates persistence defined as persevering in task through to completion and remaining focused; thinking flexibly or changing perspectives, generating alternatives, and considering options (except for the drawbridge); and applying past knowledge to new situations. Using this book, the teacher could discuss these habits of mind along with the science concepts that the book illustrates. Helping students to examine characters, whether fictional or realistic, engage in the habits of mind provides examples to students as to what these look like in a STEM area.
Selected books and habits of mind connections
The following are some of our favorite books that help the reader "see" these habits of mind in action. Furthermore, all of these books can help integrate individual STEM subject content and integrated STEM ideas. As with any new learning, teachers can help illustrate the habits of mind while reading with students through using "text to…" strategies, questioning, discussing, and pointing to explicit examples within the books.
A Computer Called Katherine by Suzanne Slade
Katherine Johnson has been called many things – a human computer, a hidden figure, and a woman who helped put America on the moon. This is the story of how this amazing woman persevered and stuck with it through some very challenging experiences, times, and discriminatory actions. She used her understanding of mathematical fields and opportunities to strive for accuracy, ask questions, and think and communicate with clarity and precision to help America reach the moon.
Balloons Over Broadway: The True Story of the Puppeteer of Macy's Parade by Melissa Sweet
Did you know that a puppeteer was at the beginning of the long-standing tradition? The Macy's Day Parade grew into what we now know overtime. Originally, there were giant puppets and marionettes created by Tony Sarg that allowed him to apply past knowledge to new situations as he created marionettes using materials that were used to create blimps so that they were sturdy enough to withstand the elements. Eventually, these became giant helium filled balloons due to the need to have them above the crowds that lined the streets. Throughout all of these modifications, it was clear that Tony was flexible in his thinking.
City Green by DyAnne DiSalvo-Ryan — A young girl reminisces about a demolished building in a city while at the same time encountering a crotchety old neighbor. She takes a responsible risk by collaborating with others to transform the plot of land into a neighbor city garden. As the garden takes shape, neighbors bring different objects such as slats and old nails which helps to demonstrate imagination and innovation. Finally, the young girl who has continued to talk to the crotchety old neighbor finds that her kindness and listening with understanding and empathy even brings him around to enjoy the new community garden.
The Most Magnificent Thing by Ashley Spires
This is a wonderful book that helps to illustrate both positive habits of mind and also situations where the young girl needs to rethink what is happening. For example, in the story, the "most magnificent thing" is not working out as she imagines it will. She gets mad and even smashes the pieces as the story explains her "brain is too full of all the not-right things." This would be a great example of discussing thinking about thinking and managing impulsivity (or not in this case). However, in the end, it is clear that her persistence has paid off.
Smelly Kelly and his Super Senses by Beth Anderson
In the 1930s, there was an issue with the New York City Subway System – it needed repairs – constantly. James "Smelly" Kelly had a nose that smelled everything. This was a benefit as he went to work and walked the tracks of the subway and literally gathered data through his senses. He could sniff out water leaks, rodents, and a variety of other things that could end up creating havoc if left unattended. Although his nose knew what smelled, he also needed to use other tools to help explore subway issues and thus applied past knowledge to the situations though the use of other tools and equipment.
Wangari's Tree of Peace by Jeannette Winter
Based on a true story of the Nobel Peace Prize Winner, Wangari Maathai, this story detailed how she saw environmental challenges with the deforestation of Kenya and took responsible risks by being adventurous and trying new things. Overtime, she demonstrated flexible thinking and persistence as she modified the strategies and approaches, she utilized to plant more and more seedlings.
Whoosh! Lonnie Johnson's Super-Soaking Stream of Inventions by Chris Barton
The Super-soaker is likely the best-known invention of Lonnie Johnson and invented by accident. In trying to resolve problems, Inventor Lonnie Johnson asked questions about the problems around cooling systems for refrigerators and air conditioners. In doing so, he was applying his knowledge and understanding about pressure and fluids to a potential resolution and WHOOSH invented the super-soaker.
References:
Berry, L. (2013). What floats in a moat? Simon & Schuster Books for Young People.
Dweck, C. (2015) Carol Dweck revisits the 'growth mindset'. Education Week. Retrieved from: https://www.edweek.org/leadership/opinion-carol-dweck-revisits-the-growth-mindset/2015/09
Featured image reference: https://notesfromtheprincipaldesk.blog/2018/11/20/16-habits-of-mind-in-kindergarten-you-know-it/
---
Dr. Christine Anne Royce is a past president of the National Science Teaching Association (NSTA). Royce is currently a professor in the teacher education department and co-director for the MAT in STEM Education program at Shippensburg University in Shippensburg, Pennsylvania. Her research areas include a focus on the integration of children's literature into science and STEM classes and utilizing digital tools and technology in classrooms for sensemaking. She is the author of the Teaching Through Trade Books column which appears in Science and Children and co-author of Teaching Science Through Trade Books. Connect with her on Twitter @caroyce.
Carrie Launius has nearly 35 years' experience in education. As an elementary teacher, science coordinator, assistant superintendent, and college instructor in science education she has worked with teachers at all levels. She is currently the elementary science coordinator for St. Louis Public Schools, an urban district that is the second largest school system in Missouri. Launius has served as the NSTA District XI director and many NSTA committees and chaired several including the NSTA-CBC Outstanding Trade Book Committee. Her work on this committee strengthened her interest in infusing good trade books into elementary science classrooms. This work grew into her current research, Defining the Role of Trade Books in the STEM fields. She led in developing the NSTA Best STEM Book initiative and worked with a committee to develop criteria and identify the first NSTA-CBC Best STEM Books. Besides her work with STEM trade books, Launius has done national work with Shell Oil and the Smithsonian hiring, retaining, and building leaders of minority teachers
---
Click for more LITLINKS STEM + Literacy activities