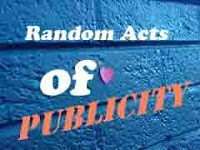 One of the benefits of writing for children is the close community of writers and illustrators at our fingertips–in spite of the self-imposed isolation that writing/illustrating requires. On one of my many listserves, I came across an announcement by Darcy Pattison about a program she is starting called Random Acts of Publicity Week. I love the simplicity and camaraderie behind Darcy's venture and urge you to support her. In her own words:
Are you like me? I always promise myself that today I'll write a review of my friends' books and actually post them on Amazon or Library Thing or somewhere. But do I? No. That's about to change!
I know how wonderful it is to see new reviews on Amazon of one of my books. I know that it's better to give than to receive. This week, I vow to put these two things together and give friends some support for their books.
So, I'm declaring next week, September 7-11, as the RANDOM ACTS OF PUBLICITY WEEK, a week when you do something to promote a friend's book, or to promote a recent book you've read. I'll post an introduction on Monday, but because of the holiday we won't get started with the ACTS until Tuesday.