Did you know that the mouse in Numeroff's classic tale is modeled after her?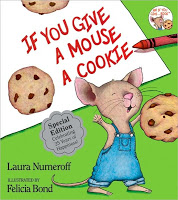 If You Give a Mouse a Cookie
(HarperCollins, 1985), Numeroff's classic bestseller, is partly autobiographical. "I'm the mouse," she says. She can be sitting at her desk in her Los Angeles home when she realizes she needs something in the bedroom. In the bedroom, she might see a pile of papers that needs to be put away. Putting away the papers takes her to the kitchen, where a stack of dirty dishes awaits. But first she has to make a trip to the store for detergent. Eventually, like the mouse, Numeroff works her way back to her desk [excerpted from my
Laura Numeroff profile
].