Did you know Over in the Jungle is part of a series?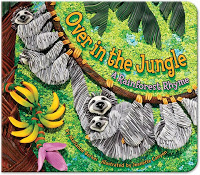 Over in the Ocean, in a Coral Reef
is a fresh twist on an old song. During story time at her library, Berkes remembers singing "Over in the Meadow" with her young patrons. At the time a save-the-ocean poster graced the library walls and another seed was planted. Berkes used the rhythm and rhyming pattern of the song, and situated her story in a new habitat. Three other
Over in the… 
books have been published, focusing on the rainforest, the Arctic and Australia, each carefully researched and vetted by expert naturalists. The newest one, 
Over in the Forest: Come and Take a Peek!
, will be published in 2012. [Excerpted from my
Marianne Berkes profile
.]