Krosoczka's chicken wears shades and plays the keyboards in this hilarious book!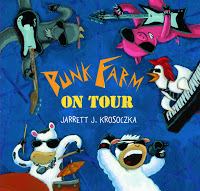 Krosoczka's books are a blend of circumstances that intrude onto his psyche.
Punk Farm
began as a series of farm animal sketches. "When I shared the story idea with my editor, she wasn't into it," he says, so he detoured to other book ideas. "I always wanted to be a rock star when I was a kid," he says, "I had a book about rock stardom in mind for about a year." The farm animals and the rock star idea merged at the Hole in the Wall Gang summer camp where Krosoczka volunteered. To motivate his campers, Krosoczka played loud rock music every day. The kids formed a lip sync band that, in one week, experienced all the turmoil of bruised egos that real bands experience. "A band is so much funnier than a rock star," he remembers thinking to himself at the time and if the band members were animals, he knew he could play their personalities off one another to make his story funny and fresh. Although Krosoczka pitched
Punk Farm
as a single title, he says, "When I finished the last painting, I knew I wasn't finished with the story." 
Punk Farm on Tour
debuted in 2007, but Krosoczka expects that he will write at least one more Punk Farm story [excerpted from my
Jarrett Krosoczka profile
].