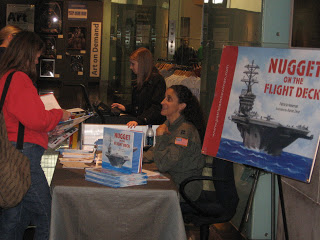 Yesterdy I signed Nugget on the Flight Deck at the Smithsonian National Air and Space Museums–both on the National Mall and at the Steven F. Udvar-Hazy Center in Virginia. Few book signing venues provide a more receptive audience to a book about airplanes and the lingo used by pilots! Surrounded by planes from the past and present, space capsules, historical exhibits like the Wright Brothers, and flight simulators, I knew my book had found the perfect home. Everyone who approached me–kids, active and retired military, airplane enthusiasts, parents, teachers, docents–told me a story about how their lives had been impacted by the miracle of flight.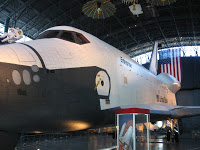 Space Shuttle Enterprise
My favorite was the former Navy sailor who worked on the flight deck of the USS Nimitz. With his two school-age nephews in tow, he told me about his job as the yellow shirt or "shooter" on the Nimitz giving aircraft the go-ahead to take off. When I signed their books, I found the page with Aaron Zenz's illustration of the "shooter" and wrote, "This is Uncle Brian!" What a great way for those boys to connect with their uncle and the important job he held on a US Navy vessel !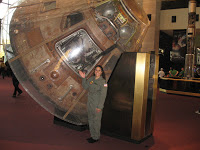 The Apollo 11 space capsule that carried Neil Armstrong, Buzz Aldrin, and Michael Collins in their historic 1969 journey. "One small step for (a) man, one giant leap for mankind."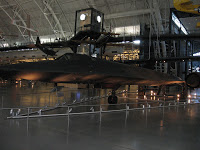 Lockheed SR-71 Blackbird–the Wright Brothers' longest flight was 7 feet longer than this plane!