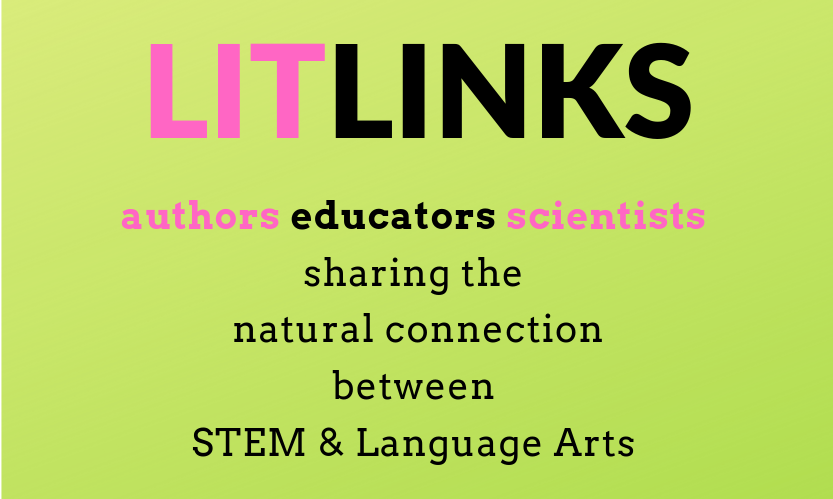 GUEST BLOGGER: CHRISTY HALE
---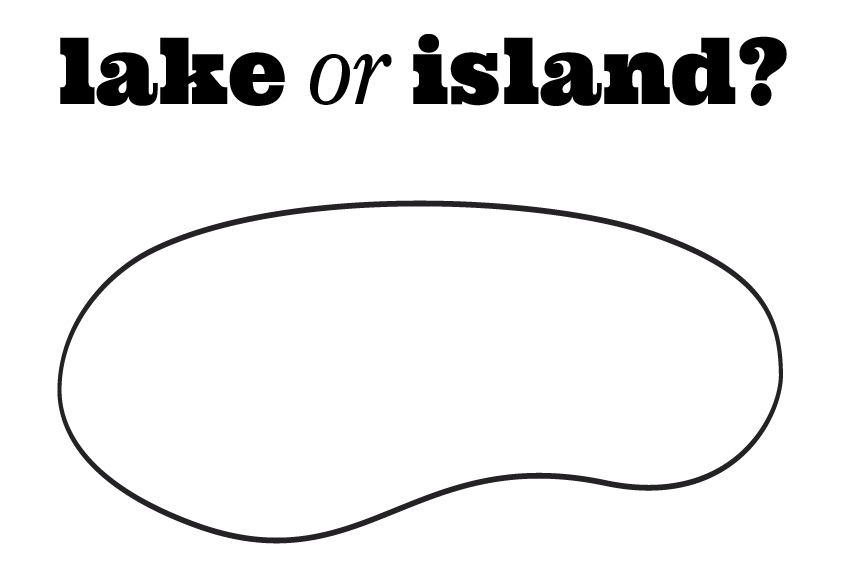 Is this a lake or an island? How do you know? What human and animal life
can you add to make this look like a lake? An island? What kind of vegetation? Invite your students to add their own details.
In first grade my daughter brought home a papercut project. She cut a simple oval-like shape out of blue paper and pasted it down on manila paper. Voila, a lake! What thrilled me was what I saw next. The lake-shaped hole in the remaining blue paper, created an island when adhered to manila paper. I'm a graphic designer. I couldn't get these positive and negative relationships out of my head.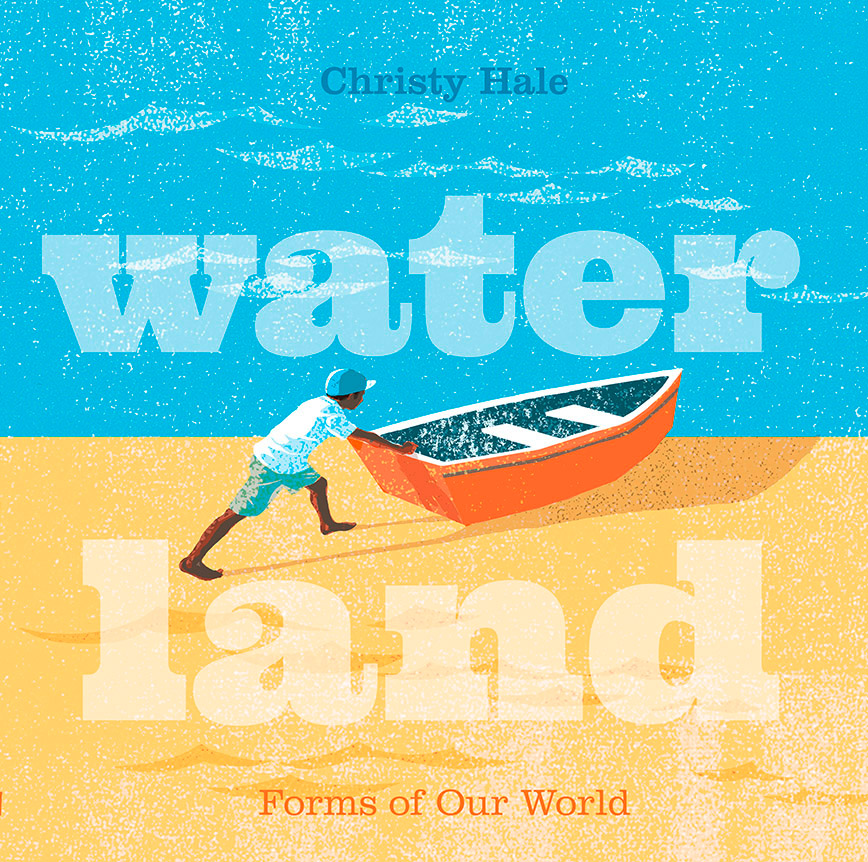 Water Land: Land and Water Forms Around the World (Neal Porter/Roaring Brook Press) taps into children's natural curiosity about the world around them and explores of the physical features of the earth. The illustrated environments showcase ten land and water masses. With each turn of a die-cut page comes a transformation; watch the shape of a lake become the shape of an island, a bay . . . a cape, a strait . . . an isthmus, a system of lakes . . . an archipelago, and a gulf . . . a peninsula. Each scenic example is labeled so children can learn nomenclature and identify basic forms. At the back of the book, a chart defines each term and provides a quick visual reference, while also highlighting the inverse relationships of the water and land forms. A large foldout world map introduces children to oceans and continents, and also pinpoints examples of the ten land and water forms. An accompanying legend lists additional land and water forms to find all around the world (see featured image at the top of this post).
Land forms and literacy
Water Land has minimal text, but lots of visual stories! Use the details in the illustrations as the inspiration for a discussion of story elements. Display the "Lake" and "Island" pages and tell a story about the girl. Is she playing with leaves? Or, is she stranded and using the fire to signal SOS? Ask students to note the characters, setting, problem, and solution.

Group storytelling activity
Download Story Cards featuring details from the book, cut them apart, and hand out one to each student. Have students make up a story about what is happening on their card. Read the book and invite each student to share a story.
Brainstorm examples of nearby land and water forms students may have visited and ask students to write stories about their experience.
Related CCSS standards:

Reading Standards, Integration of Knowledge & Ideas, Strands 7 & 9

Writing Standards, Text Types & Purposes, Strands 2-3

Writing Standards, Production & Distribution of Writing, Strand 4

Language Standards, Vocabulary Acquisition & Use, Strands 4-6
Landforms and STEAM
Encourage hands-on learning by providing students with blue and brown clay to create models of land and water forms. Direct exploration with prompts like, "Can you make an island? Where should the water go? How could you change it to be a peninsula?" or "How do you think a ____ was made in nature?"
Explore how water can change land. Have students create some of the land forms listed with sand or soil in a large lasagna pan or moveable tub and observe the influence of water added in various ways to mimic nature (e.g., make "rain," pour water down a slope or tilt the tray back and forth to simulate waves). Add "plants" or rocks to observe their effectiveness at reducing erosion.
Investigate how land and water forms can be animal habitats. Begin by reviewing the book illustrations to spot all the animals (e.g., seagulls, deer, sea turtles). Brainstorm additional animals that may be native to each form. Have pairs research different animals, focusing on the interplay between animal and habitat. (E.g., "Where does the animal find its food? What does it use for shelter? How is it adapted to its habitat?")
Consider the impact of environmental problems or disasters on various land and water forms, as well as any applicable conservation or restoration efforts. For instance, explore the impact of invasive plants on lakes, pollution in bays or gulfs from an oil spill, or the impact of rising sea levels due to climate change on islands and archipelagos.
Related CCSS standards:

Reading Standards, Integration of Knowledge and Ideas, Strand 7

Writing Standards, Research to Build and Present Knowledge, Strands 7-9

Language Standards, Vocabulary Acquisition & Use, Strands 4-6

Speaking and Listening Standards, Comprehension and Collaboration, Strands 1-2

Speaking and Listening Standards, Presentation of Knowledge and Ideas, Strands 4-5
---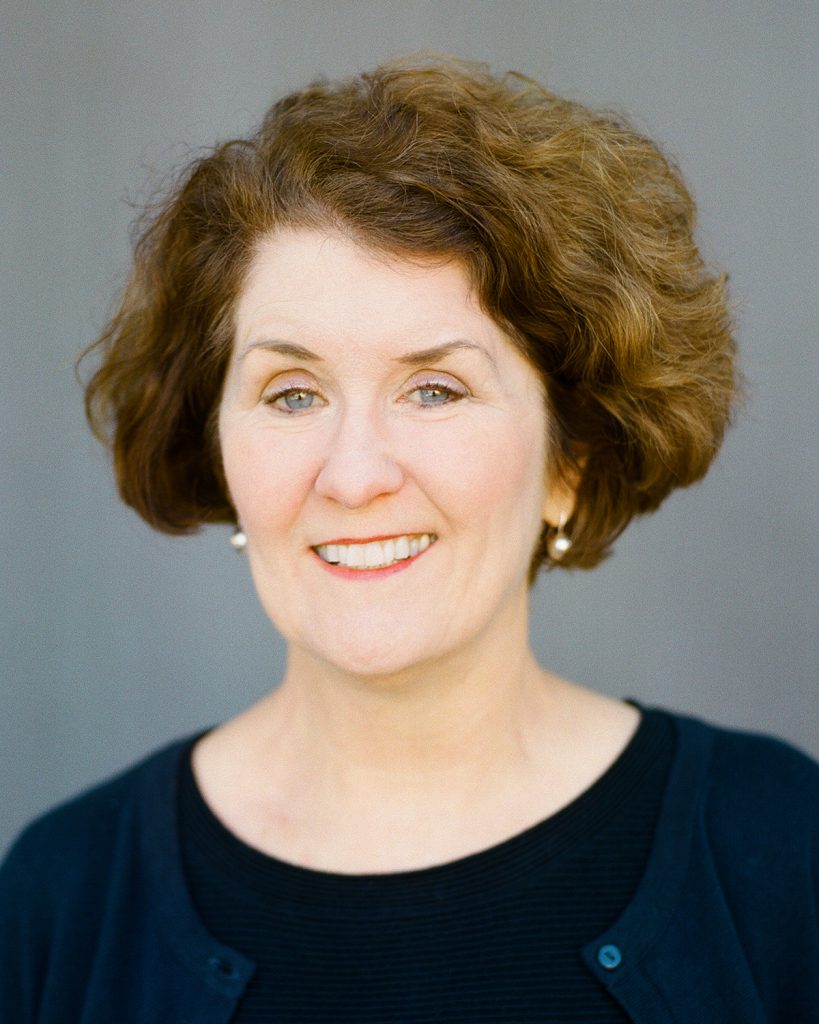 Christy Hale is the author-illustrator of The East-West House: Noguchi's Childhood in Japan; Dreaming Up: A Celebration of Building; Water Land: Land and Water Forms Around the World; and Todos Iguales / All Equal: Un Corrido de / A Ballad of Lemon Grove. Forthcoming books include Out the Door (Neal Porter/Holiday House, fall 2020) and Copycat: Nature-inspired Design Around the World (Lee & Low Books, Spring 2021).
An art director, designer, and educator, Hale teaches Writing for Picture Books at the Academy of Art University in San Francisco. She lives with her family in Palo Alto, California. Water Land was inspired by a project her daughter did in first grade. www.christyhale.com  @ChristyHale_bks
---
Click for more LITLINKS STEM + Literacy activities