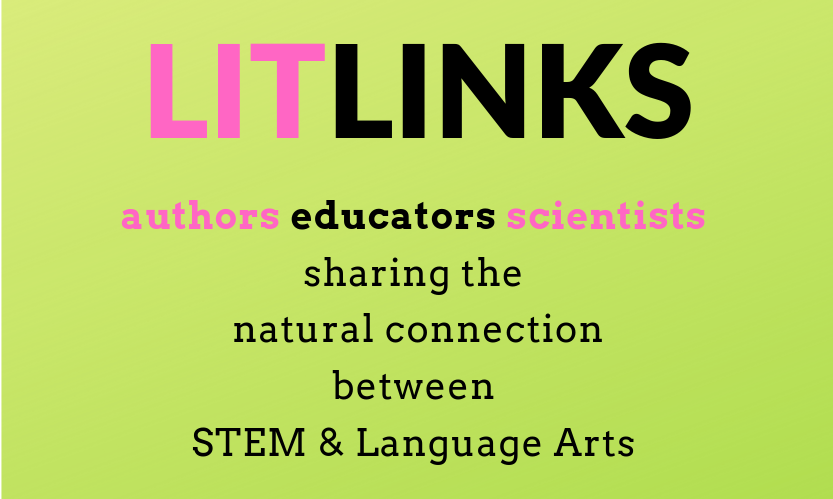 GUEST BLOGGER DEBBIE GONZALES
---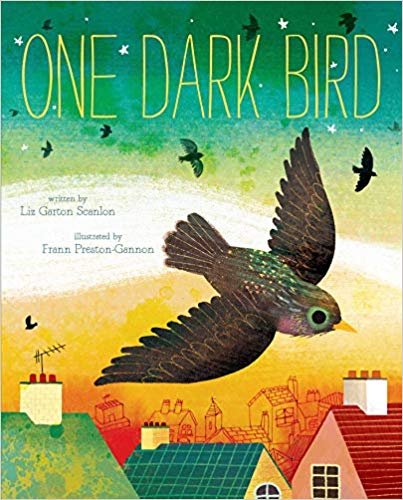 Have you ever seen a massive flock of noisy starlings dancing through the sky like a dark cloud? If so, you might be interested to know that this phenomenon is known as murmuration. Hundreds of little birds gather to create a protective cluster by ribboning together high overheard. If not, I suggest that you read One Dark Bird, written by Liz Garton Scanlon and illustrated by Frann Preston-Gannon. This beautifully illustrated poetic story shows how one small bird becomes many in an effort to protect their community.
The phenomenon of murmuration
Scientists state that murmuration occurs for several reasons. Birds search as a group for good feeding areas or places to roost. They use the intricate swirls to confuse predators. And as suggested in One Dark Bird, murmuration gives each starling a sense of belonging and purpose.
The first line of the story reads: "One dark bird is perched up high, with a view of the town and a taste of the sky."
This bird flies to join another, and those two then seek out another, until gradually a mumuration is created. The hundreds of small birds gather to create a most extraordinary sight. The starlings dance in the sky until evening comes, then each finds a safe place to roost until morning.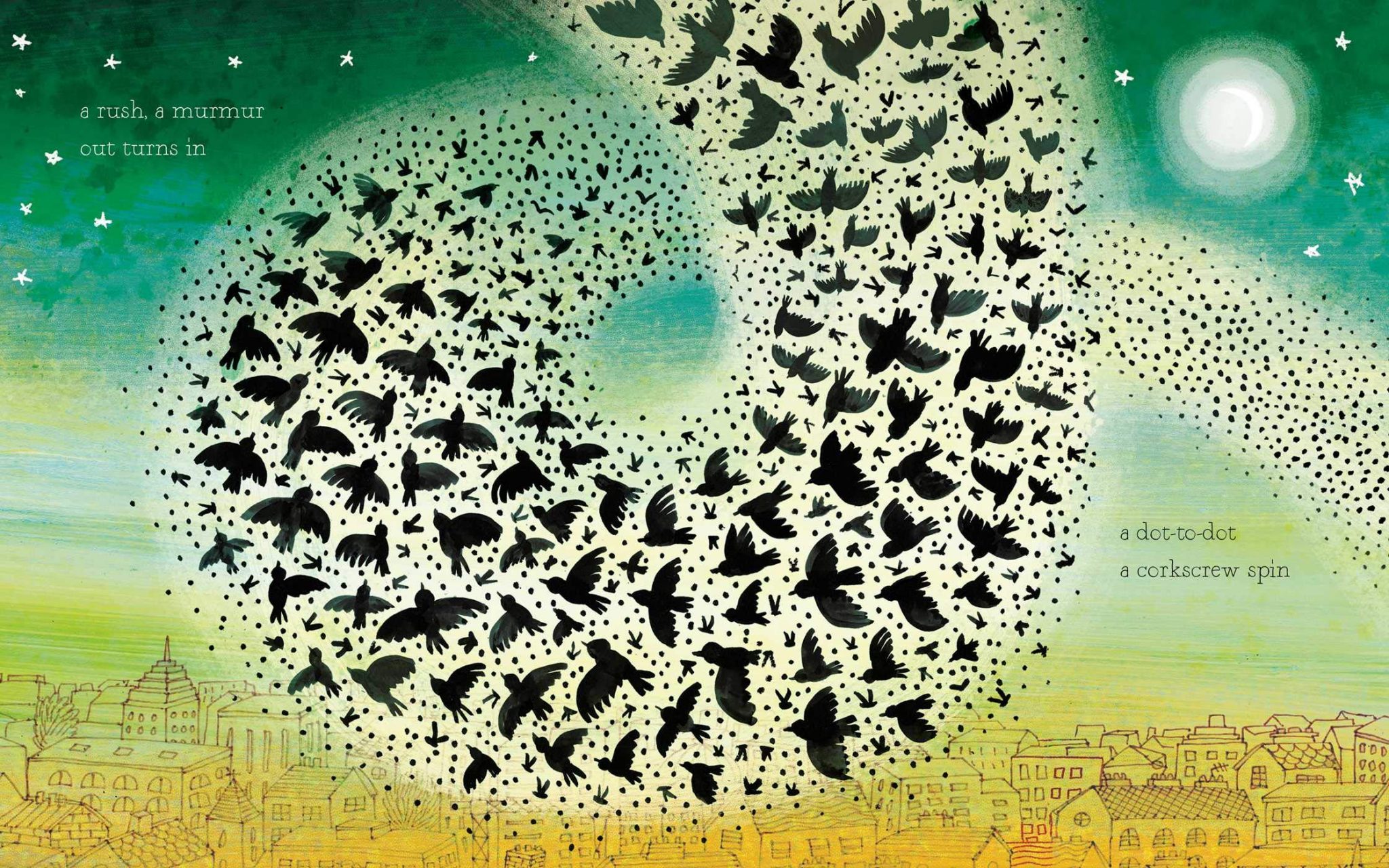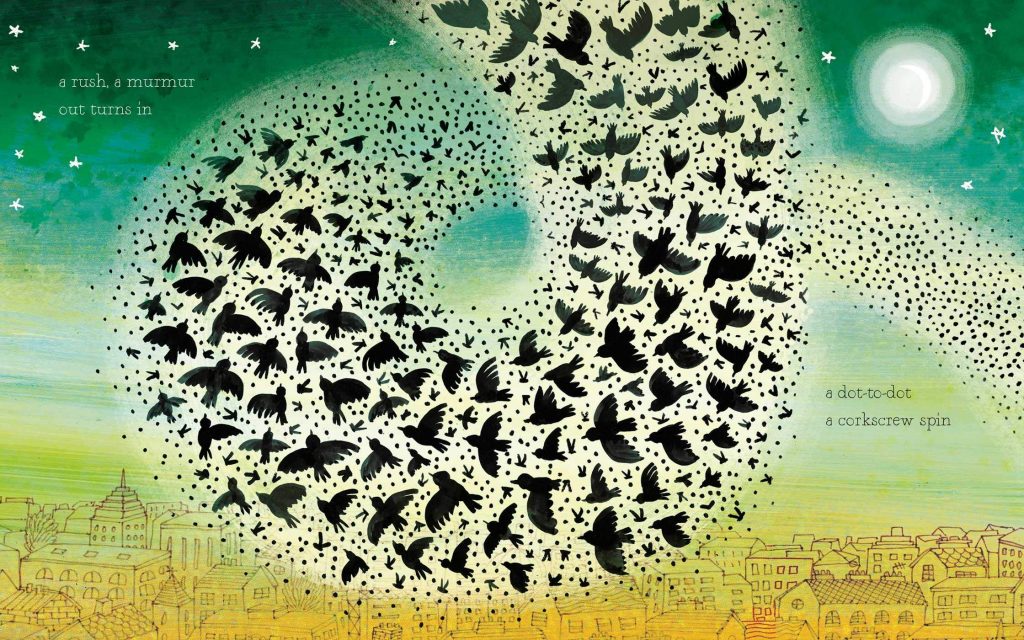 Download free teacher guide
On her website, Liz offers a free standards-aligned teacher guide that includes an interesting numeric sequencing activity. This hands-on, manipulative lesson helps young students comprehend mathematic skills, such as numeral recognition, ascending and descending quantity association, and the connection between counting and cardinality. Not only is this activity inexpensive and great fun to make, it encourages young readers to make a scientific connection with murmurations by understanding patterns starlings engage in as means of survival.
Numeric sequencing activity
The numeric sequencing activity consists of numeral cards and strips featuring sequential images of starlings. To download the free teacher guide, visit either Liz Garton-Scanlon's website or Guides by Deb. The materials required make the project are simply a sheet of cardstock and scissors. Students can either sort the starling strips in ascending or descending order.
Preparation: Print starling strips and numeral cards (supplied in educator guide) on cardstock. Use scissors to trim around the borders of each.
Step One: Sequence the starling strips from the smallest to the largest. match each numeral card to the corresponding starling strip. Reference the
smallest to largest numeric sequencing featured in the beginning of One Dark Bird. Discuss the effect of the starlings congregating to establish a
mumuration.
Step Two: Sequence the starling strips from the largest to the smallest. Match each numeral card to the corresponding starling strip. Reference the
largest to smallest numeric sequencing featured in the end of One Dark Bird. Discuss the effect of the mumuration gradually deconstructing.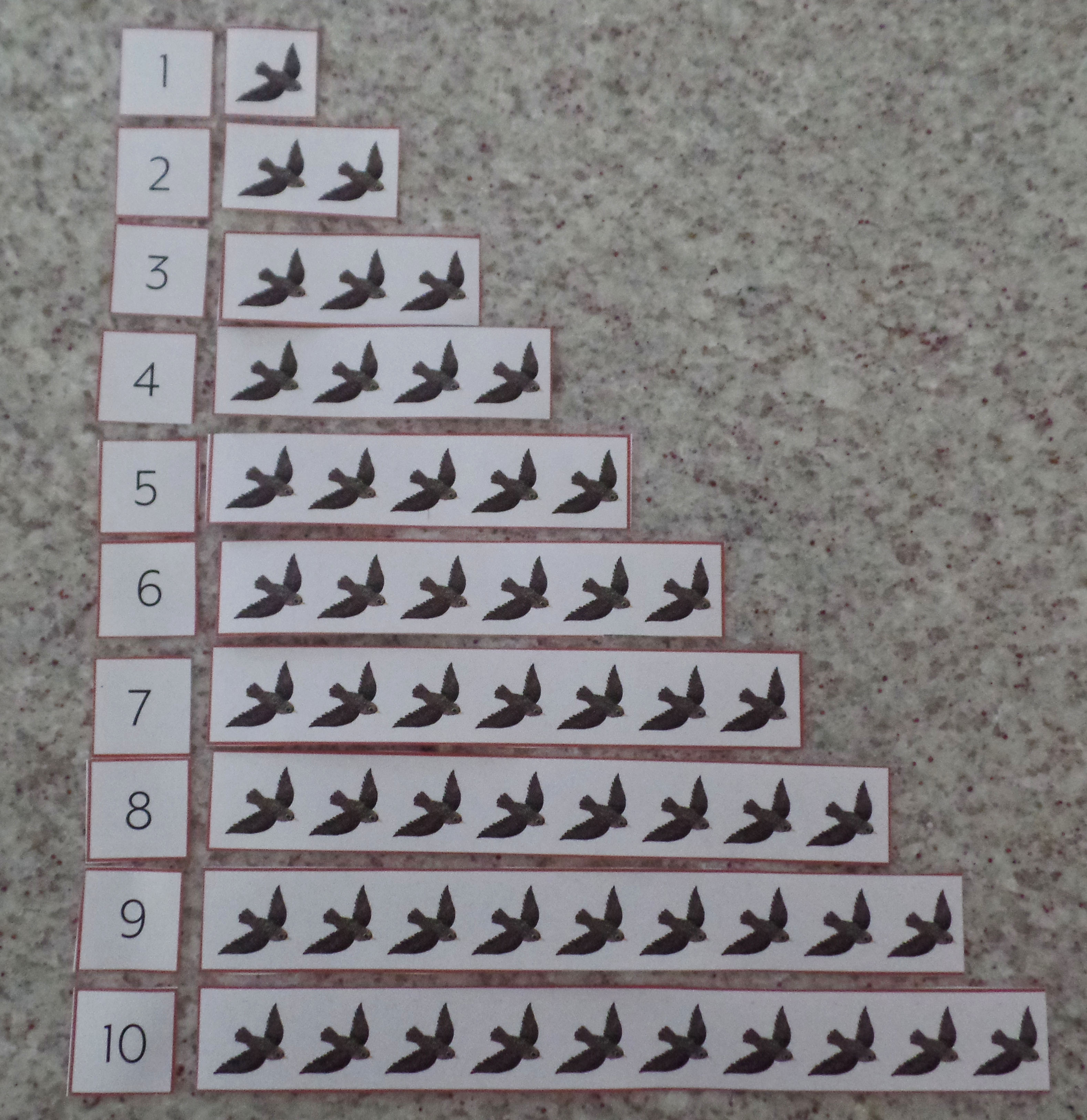 Bird anatomy activity
As a bonus, there is short bird anatomy nomenclature activity featured in the guide. Complete with a graphic of a staring and manipulative tabs, young readers will get a feel for how this small-but-mighty bird is built.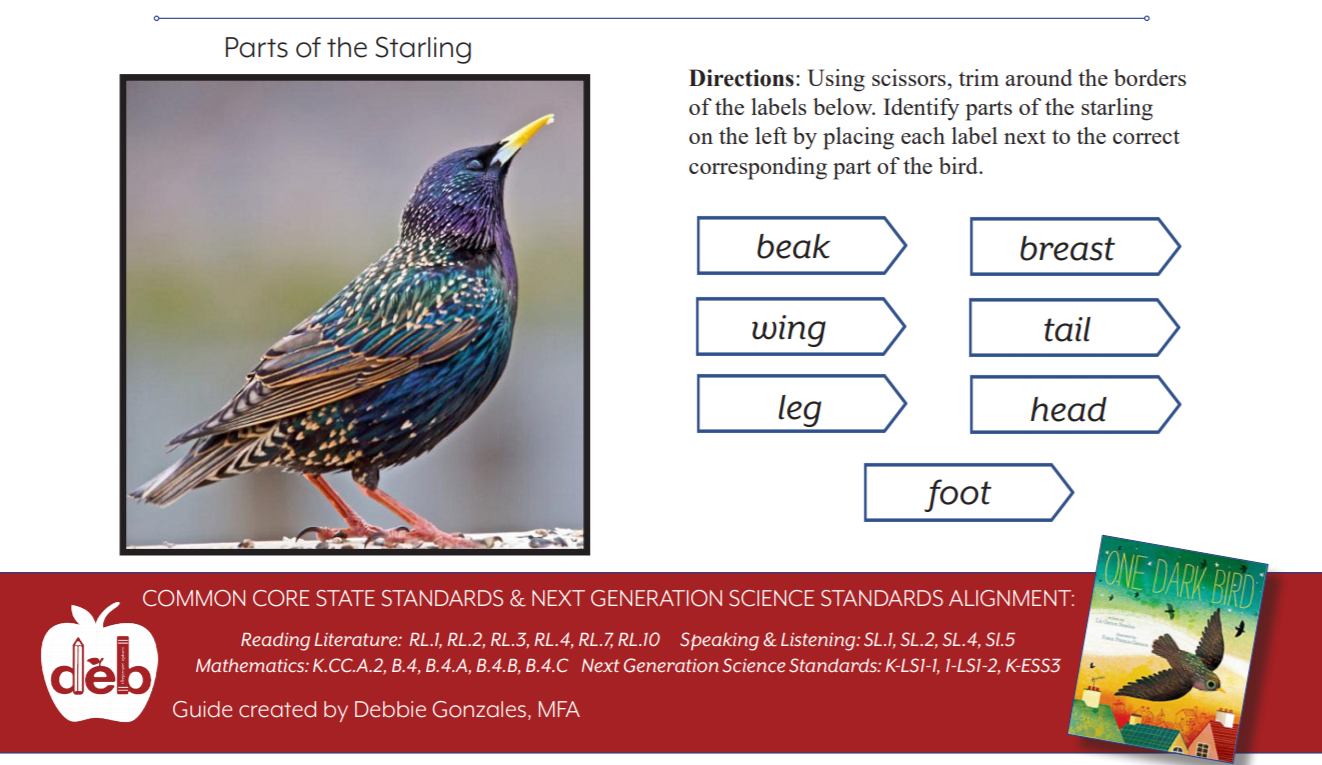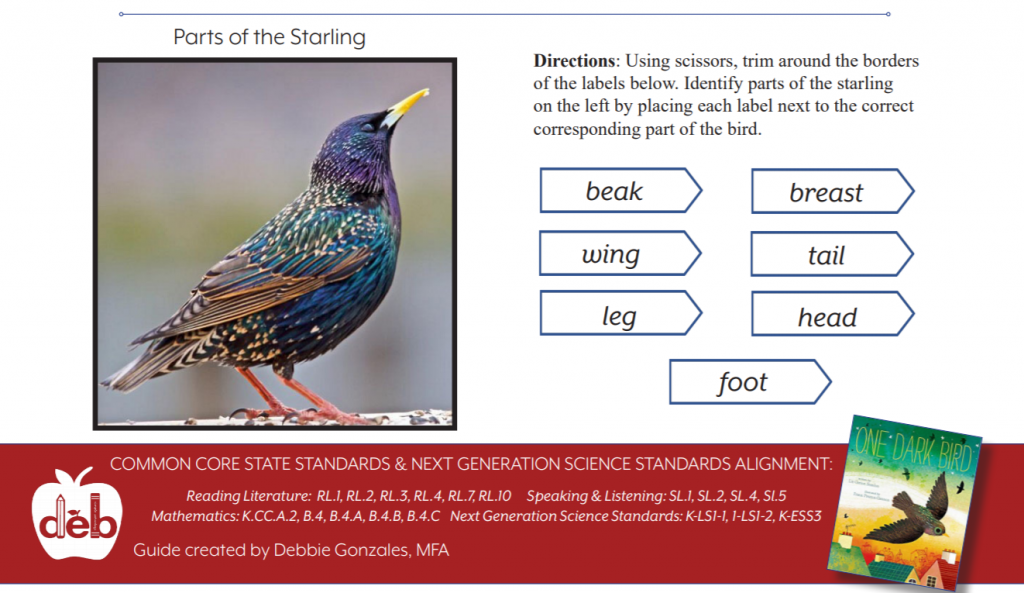 Extension ideas
With One Dark Bird as reference, students are encouraged to connect with the starlings' clustering and dispersing patterning through writing, illustrating, and presenting their observations with the class.
Enhance the learning experience by watching some of the quality videos about murmuration available online.
The standards
After completing the STEM lessons presented in the One Dark Bird teacher guide, young readers will understand the spellbinding phenomenon of murmuration intellectually and emotionally. After reading the book and completing the activities in the teacher guide, students will know how and why the process will begin again the next day.
"Hundreds here and then, good night they fly away with evening's light."

Closing sentence of One Dark Bird by Liz Garton Scanlon
Common Core & Next Gen Science Standards Alignments:
Reading Literature: RL.1, RL.2, RL.3, RL.4, RL.7, RL.10
Speaking & Listening: SL.1, SL.2, SL.4, Sl.5
Mathematics: K.CC.A.2, B.4, B.4.A, B.4.B, B.4.C
Next Generation Science Standards: K-LS1-1, 1-LS1-2, K-ESS
---
Debbie Gonzales is a career educator, curriculum consultant, former school administrator and adjunct professor, a podcaster (The Debcast), and past SCBWI RA for the Austin Chapter. Deb currently devotes her time crafting teacher guides and helping book marketers develop vibrant Pinterest platforms. She's the author of six transitional readers for New Zealand publisher, Giltedge, and the non-fiction picture book Girls with Guts: The Road to Breaking Barriers and Bashing Records (Charlesbridge, 2019). Deb serves as a member of the Michigan Reading Association board. She earned her MFA in writing for children and young adults from the Vermont College of Fine Arts. Learn more about Deb and her many projects by accessing her websites at debbiegonzales.com and guidesbydeb.com, or on Twitter at @DebGonzales5.
---
Click for more LITLINKS STEM + Literacy activities