GUEST BLOGGER LESLIE BARNARD BOOTH
---
In A Stone Is a Story, students follow a rock as it forms and transforms over hundreds of millions of years. They witness the rock's journey through the phases of the rock cycle, and discover how it ends up on a modern-day beach, in the hands of a child.  Through lyrical writing and detailed backmatter, students learn how rocks are shaped by natural forces and events, and how this allows stones to tell stories about Earth's deep past.
In addition to teaching about geology and the rock cycle, A Stone Is a Story is a helpful mentor text for talking about vivid verbs, word choice, rhythm, and organization in student writing. You can also use A Stone Is a Story to explore metaphor and to create a collaborative classroom book based around this literary device.
Natural metaphors activity
Lesson objectives
Students will be able to:
identify metaphor in a lyrical nonfiction text
create metaphors to describe natural objects
Steps
Read the book and discuss. You may use this discussion guide.
Define metaphor for students. One possible definition: Metaphor – a literary device that enhances understanding by showing how two things are alike.
Give examples: A mountain is a ladder to the sky. The sun is a gleaming gem. My slippers are clouds of fluff. A book is a journey to another world.
Ask students to find a metaphor in the book. (Hint: Check out the title, and the second spread.)
Next, have students find a simple natural object that they are curious about. This could be a pine cone, a feather, a twig, a snail shell—anything they are intrigued by.
Depending on the age group, you may decide to have students research their object to learn more about it.
Based on what they have learned (or already know) about the object, ask students to use the brainstorming printable in this packet to list some metaphors that describe their object.
Have students choose the metaphor from their list that best describes their object.
Have students write out their chosen metaphor and explanation using the template in this packet. Invite them to illustrate and add color.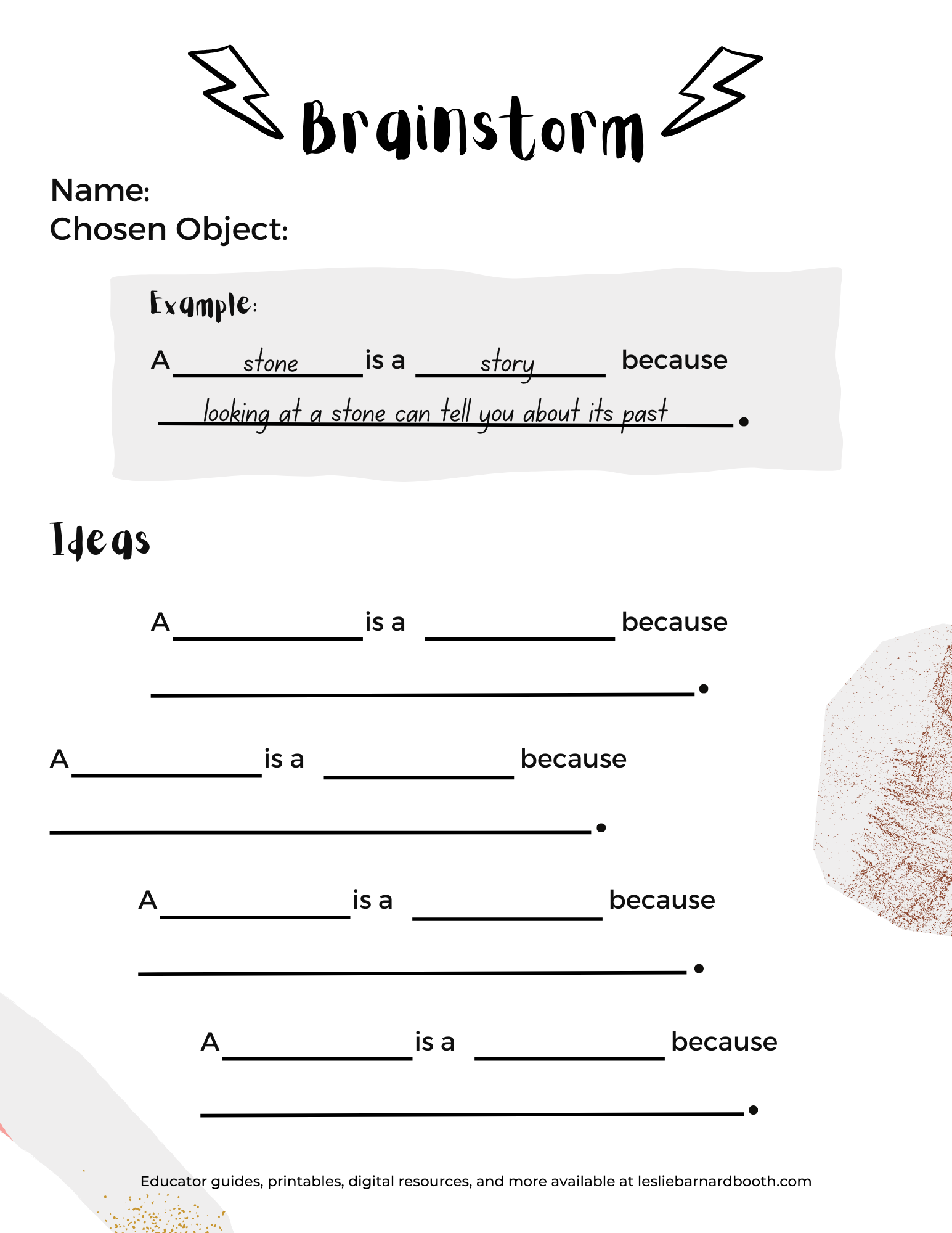 Bind students' pages together to create a classroom book about nature, told through metaphor.
Find more lessons and activities here.
Featured image credit: "Rocks, Pebbles, Dana Point beach" by Martin LaBar is licensed under CC BY-NC 2.0.
---
Leslie Barnard Booth writes picture books about science and nature. Her nonfiction picture book debut, A Stone Is a Story, releases in October 2023 with Simon & Schuster/Margaret K. McElderry Books, to be followed by One Day This Tree Will Fall in 2024 and I Am We: A Story of Survival in 2025. She has taught at preschool, elementary, and college levels, and holds an MFA in creative writing and an MS in education from the University of Oregon.
Leslie grew up in Washington State, among giant trees and rugged mountains, and as a child her pockets were always full of rocks. She is now a mom to two daughters, and her children often inspire her creative work. She learns a lot from watching how they approach nature—the way they pause, crouch, and look closely at even the littlest, humblest creatures. Thanks to them, she's relearned what children seem to know intuitively: that every snail, stone, and clump of moss is full of wonder, if only we take the time to look.
---
Click for more LITLINKS STEM + Literacy activities