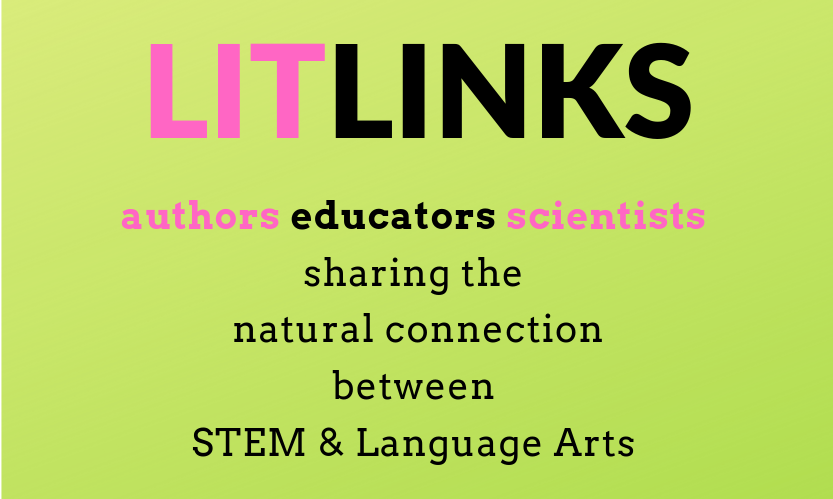 GUEST BLOGGER JANAY BROWN-WOOD, PhD
---
Helping children see the math in their worlds
As educators, we understand that it is never too early to begin introducing young children to math. One of our tasks as teachers is to help children see the math within their worlds—and their words—even when they don't realize they are learning about math. Shapes and lines, patterns in colors, blocks and buildings, cups and funnels for measuring. Even volume as we wonder how many family members can fit inside a tiny house. These things help young children get the much-needed practice with mathematical thinking which sets the foundation when building new, more complex understandings.
The math in our families
We also know that children thrive when they see themselves in the classroom through the materials we use, in the concepts we teach, and in the experiences we craft and curate for our kids. Connecting our students, their lives, and their background knowledge to new content is imperative to whetting their appetites for Family + Diversity + Poetry + Math! These are some of the ideas inherent in my book Grandma's Tiny House: A Counting Story! about a loving family coming together to eat good food and celebrate together.
Our home counts
This activity will allow students to think about numbers as well as themselves and their families, both in and out of school. It is separated into parts that can be done all at once or spread across sessions.
Pull out Grandma's Tiny House and introduce them to the author, illustrator, and the cover. Ask the students what they think the book is about and who will be in it and how they know this.
Bring attention to the "A Counting Book!" part of the title, discussing how this lets the reader know that there will be numbers in the book.
Ask students to think about the different things people can count in their homes. Have them turn to a shoulder buddy and discuss this (i.e. how many shoes you have, the number of windows on your house, how many neighbors live on your street, etc.).
Now, have them share some of their thoughts with the whole class. On a large board, capture some of those thoughts.
Next, have students think about things they can count related to their own family members (e.g. how many family members do you have in your immediate and extended families, number of eyes, etc.).
Now read the book.
After the book is finished, ask students to reflect on some items counted in the book (family members and foods).
Our name graph
After reflecting on the book, now have the class do some counting regarding our "classroom family," but related to names and letters.

Have each of the students write their names on their own sheet of paper. You can decide if you want them to use just their first names or first and last names.

Have them count the number of letters in their names and write it answer on the back side of the sheet of paper.

Go around the class and have each student hold up their sheets, saying their number of letters. Write down numbers as they come up and keep a tally.

After all the students have shared their numbers, graph the number of letters in our names using a bar graph. Mention the awesomeness of the diversity in their names and the number of letters within the names. (This could be a fun virtual activity too. using the polling feature in Zoom.)
Optional: Have them do their own graphs using their own family members and a new sheet of paper that includes the "X axis" indicated.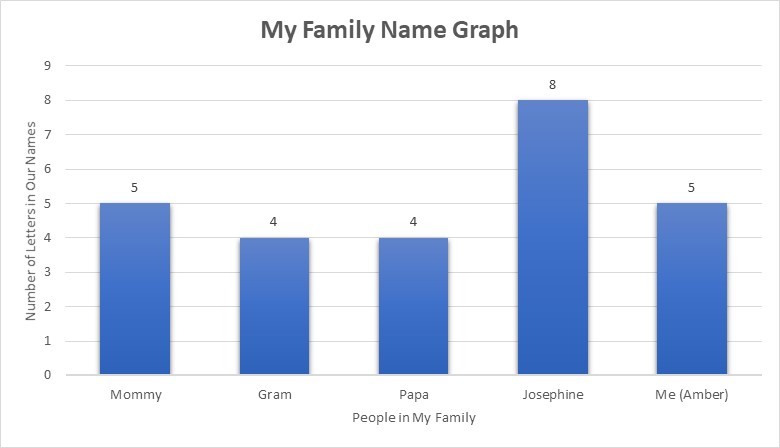 The poetry of math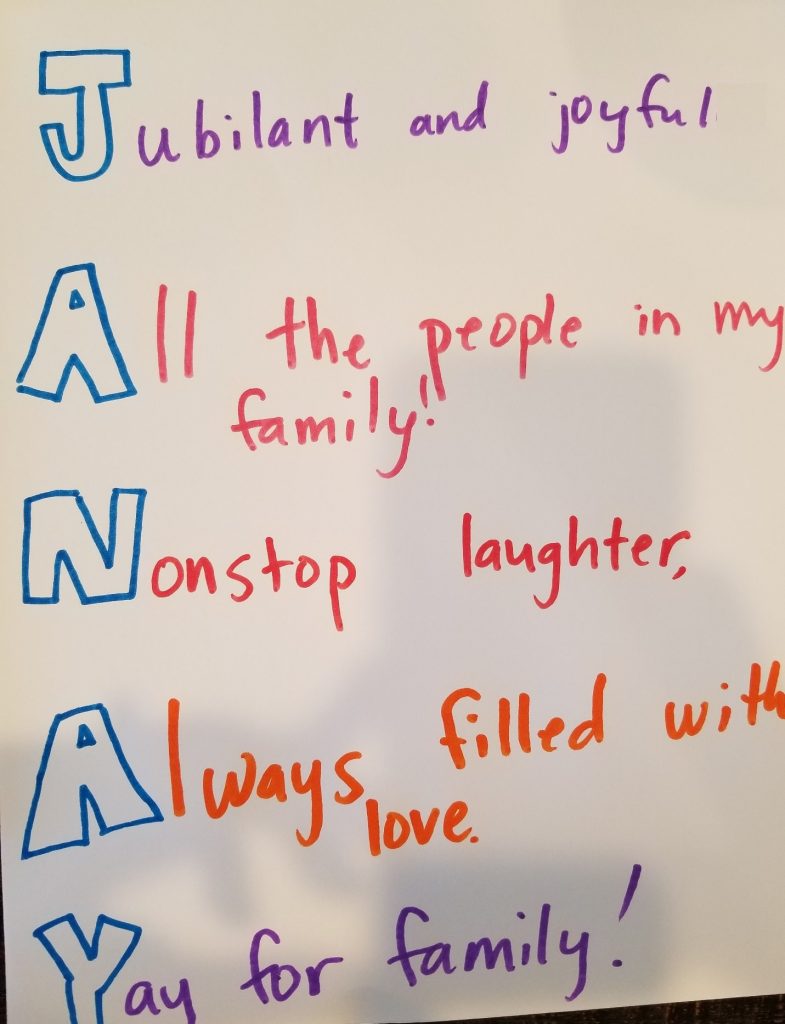 Pull the book out again and ask students what is something else they realized about this book? It rhymes! What do they know about poetry? What do they know about rhymes?

Review what we know about poetry.

Hand out a sheet with the text printed out for students to follow along as you read. As the book is read again, ask the students to think about the language and words within the book. What are some rhyming words?

Have the students count the number of lines in the book.

Have the students circle rhyming words. How many rhyming word pairs can they find?

So far, the class has discussed the number of things they can count at home, in their families, and with each other in the classroom. They've also talked about poems. Tell them you want them to bring it all together with this last task:

Write a family counting poem that includes numbers and something related to their families.

They can also write an acrostic poem that uses the letters of their names

Give an example of an Acrostic Poem

Here are some Acrostic Poem Resources
Extension for older kids
Working with Syllables
You can have the older students discuss syllables and count syllables within the story. Then introduce them to a number of different poetry forms and discuss how syllables can influence the form.
You can use Thanku: Poems of Gratitude as a supplemental text. Students can read through different forms of poetry, analyze them for their syllable counts, and then write their own family counting poems in one of the forms included.
Adding in a little more science
What about counting the number of words you can say in one breath? Introduce students to the connection between speaking and their respiratory system. Here's a kid-friendly website to refer to: https://kidshealth.org/en/kids/lungs.html. Then, have them see how many words they can say in a breath when they whisper, say it regularly, and shout it. Have them read lines from Grandma's Tiny House as fast as they can and see how far they can get in one breath. Talk about tying in fluency + science + math + fun!
Wait, There's More!
Are you looking for additional ways you can utilize Grandma's Tiny House: A Counting Story! in your classroom? Check out the free Grandma's Tiny House: A Counting Story! Teacher's Guide created by Marcie Colleen, a former teacher with a BA in English Education from Oswego State and a MA in Educational Theater from NYU.
You can also hear me talk about what inspired Grandma's Tiny House: A Counting Story!, hear me read an excerpt, and more by clicking on this video!
---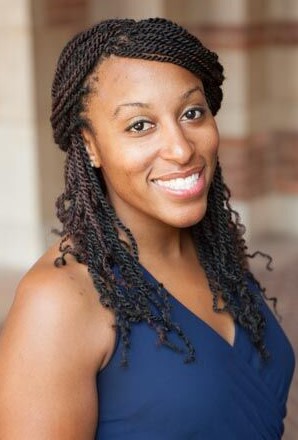 JaNay Brown-Wood, PhD is an award-winning children's author, poet, educator, and scholar. Her first book Imani's Moon won the NAESP Children's Book of the Year Award, and her second book Grandma's Tiny House: A Counting Story received a starred review from Publisher's Weekly and won the CELI Read Aloud Book Award. She enjoys writing for kids, spending time with her family, and spreading the word about diversity in children's literature. She has at least six forthcoming books including Shhh! The Baby's Asleep (Charlesbridge, forthcoming 2021); Where in the Garden, a four-book series (Peachtree, forthcoming 2021 and 2022), and Jam, Too (Nancy Paulsen Books/Penguin Random House, Forthcoming 2023)! Learn more about her here: www.janaybrownwood.com.
Featured image credit: "portraits_Ethiopia" by Victor Bezrukov is licensed under CC BY-NC 2.0
---
Click for more LITLINKS STEM + Literacy activities