GUEST BLOGGER STEF WADE
---
With the new developments of space rovers and telescopes, we're learning more about space than ever before. In my latest picture book, Moving to Mars, a follow-up to A Place for Pluto, the Red Planet wonders if he can become a people planet.
Sneaky learning
Mars is rather grumpy and doesn't enjoy the unwanted company, until they leave. Then he wonders if he can be like his friend, Earth, and have humans friends who stay.
Moving to Mars blends fact and fiction, using what I call…sneaky learning. The best kind! I believe in interweaving facts with a fun and engaging fiction story to keep kids interested in learning and to encourage further exploration of a topic after they're done reading.
I hope this book piques your students' interest of the incredible and endless possibilities of space!
The following activities can be included in your space unit to help students understand why Earth is habitable and what obstacles we would need to conquer to be able to spend time, or even live, on Mars. Don't forget to include the travel brochure in back, which provides non-fiction back matter to the story…in a sneaky way.
Identifying the Mars problem
Read the book aloud, then ask the following questions.
What makes Mars difficult to inhabit?
What elements on Earth are different than on the Red Planet?
How is going to the moon different than going to Mars?
Brainstorming solutions
How does Mars prepare for visitors? Think about food, air, temperature, breathing, etc.
Critical thinking: Do you think it's possible to live on Mars?
How long does it take to get there? Would you want to make that journey?
Drawing activity
Using the following prompt as a drawing activity. If you lived on Mars:
What would your home and your town look like? What would you wear? Think about what would you grow in your greenhouse.
More Research
Moving to Mars is a gateway into the research on this and other planets. Check out the following picture books to learn more about Mars' "other visitors."
CURIOSITY: THE STORY OF A MARS ROVER by Markus Motem
MARS: EARTHLINGS WELCOME by Stacy McAnulty, illustrated by Stevie Lewis
ROVER THROWS A PARTY by Kristin L. Gray and Scott Magoon
WELCOME TO MARS: MAKING A HOME ON THE RED PLANET by Buzz Aldrin and Marianne J. Dyson
NASA's new mission
NASA is embarking on a new mission called Moon to Mars in which scientists and astronauts are using the lunar surface to learn more about the sun, the solar system, and the possibility of visiting other planets. The moon provides the ability to test instruments, tools, and equipment that could be used in a mission to the Red Planet. Even though Mars and the moon are different in atmosphere and make-up, it is still a better testing ground than Earth.
I learned about this mission first-hand at Space Center Houston, where I saw what a greenhouse in space would look like!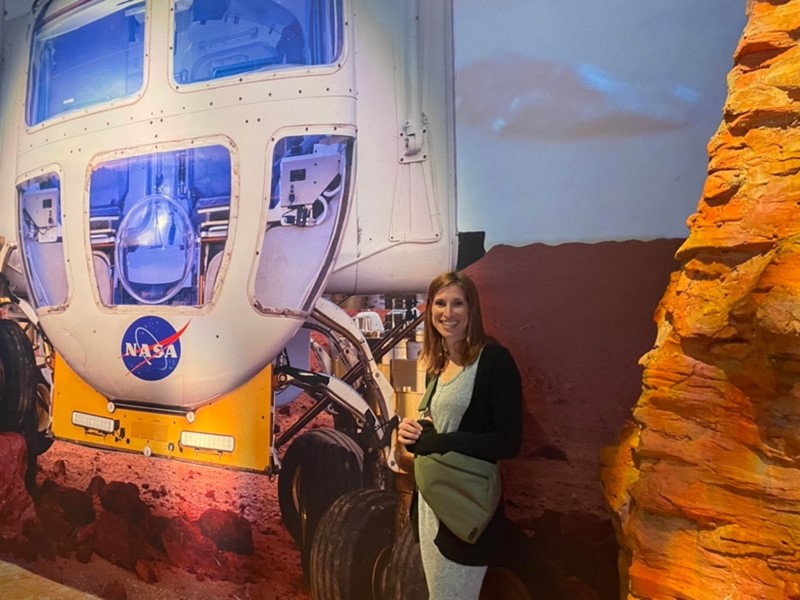 Learn more about this mission and about the exhibit.
Featured image credit: "Mars" by Kevin M. Gill is licensed under CC BY 2.0.
---
Stef Wade is the best-selling author of A PLACE FOR PLUTO, THE VERY LAST LEAF, Q AND U CALL IT QUITS and MOVING TO MARS. A PLACE FOR PLUTO has received numerous awards and recognition including, Honorable Mention for the Council of Wisconsin Writers Tofte/Wright Children's Literary Award, 2019 LITA Golden Duck Notable Picture Book, and runner-up for the Show Me Reader Award.
Stef's next picture book, EVERYDAY'S A HOLIDAY, illustrated by Husna Aghniya, releases from Running Press in January 2023. 
Stef holds a BA in advertising from Marquette University and an MBA in Integrated Marketing Communication from DePaul University. A Chicago-girl at heart, she's bounced all over the Midwest with her college sweetheart husband and her three historically and literary named boys. She currently resides in Brookfield, WI.
For more about Stef, visit www.stefwade.com or follow her on Instagram @stef.wade or Twitter @stef_wade.
---
Click for more LITLINKS STEM + Literacy activities