---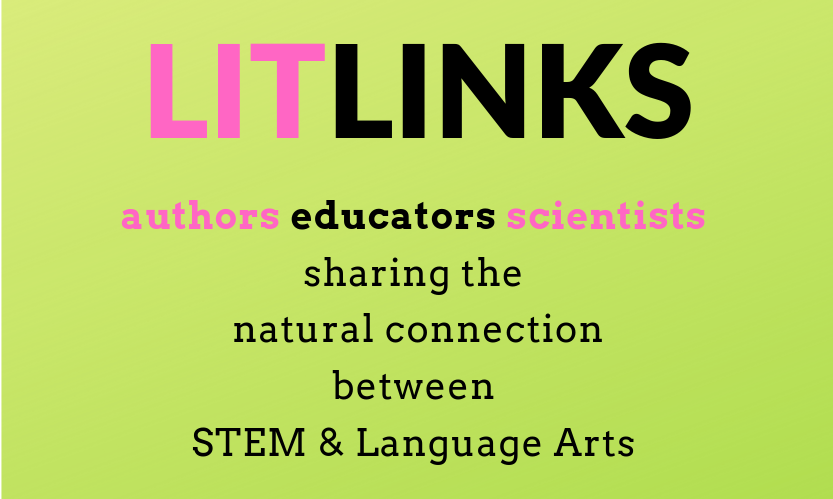 GUEST BLOGGER: PAMELA S. TURNER
Talking animals are a big part of childhood: FROG AND TOAD, THE JUNGLE BOOK, and of course THE CHRONICLES OF NARNIA, to name just three. I'm sure everyone has their own favorites.
"Anthropomorphism" may be a foreign term to most young readers, but most children understand that animals can't really talk–at least not in the complex way humans do. For an exercise that combines STEM and language arts, try pairing a talking animal book with a STEM book that reveals the life of the real animal.
Nonfiction and fiction about crows
Katherine Applegate's lovely WISHTREE (2017, grade 4 and up), features a crow as the most prominent character among a cast of suburban wildlife. In my book CROW SMARTS: INSIDE THE BRAIN OF THE WORLD'S BRIGHTEST BIRD (2016, grade 5 and up), I look at the extraordinary abilities of the tool-making New Caledonian crow, discuss the family life of crows, and attempt to dispel some misconceptions about these common but commonly misunderstood birds.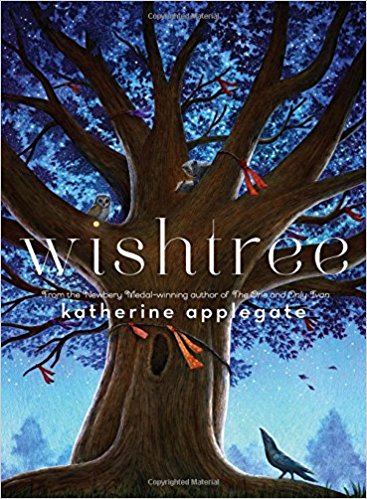 Pairing WISHTREE and CROW SMARTS invites a conversation about how animal characters are often given a mix of characteristics, some true-to-life, and some fanciful.
Questions to spark a discussion or a writing assignment
In what ways does the crow in WISHTREE behave in a make-believe way?
In what ways does the crow in WISHTREE behave like the real crows in CROW SMARTS?
Overall, based on CROW SMARTS, how realistic is Applegate's black-feathered character?
Try writing a true-life story/drama about a crow that is entirely based on how a real crow might act in a real-life situation. How hard/easy is it to write from a crow's point of view without making the crow act/think in a human way?
Why do you think Applegate made her crow character so human?
Why do you think Applegate choose to tell the story of the immigrant family and their neighbors through the eyes of a tree, a crow, and other animals?
What is the purpose of fiction like WISHTREE?
What is the purpose of a nonfiction science book like CROW SMARTS?
Once your students are done, please have them visit my website's special crow page https://www.pamelasturner.com/resources/crow/smart_crows_main.html for some fun videos of crows at work and play. Real crows possess a level of goofiness that is underappreciated! You'll also find an activity and discussion guide for CROW SMARTS at https://www.pamelasturner.com/images/pdfs/dg_crow_smarts.pdf .
Another nonfiction-fiction pairing
For another fiction and nonfiction pairing, consider Applegate's THE ONE AND ONLY IVAN (2012, grade 3 and up), and my book GORILLA DOCTORS: SAVING ENDANGERED GREAT APES (2008, grade 5 and up) as well as the "Gorilla Forest" chapter in my book A LIFE IN THE WILD: GEORGE SCHALLER'S STRUGGLE TO SAVE THE LAST GREAT BEASTS (2008, grade 5 and up).
And don't stop there. Almost every anthropomorphic children's book can be paired with a STEM title about the real-life animal. Remember that nonfiction and fiction are like peanut butter and chocolate. Each excellent on its own, but when combined…so sublime!
---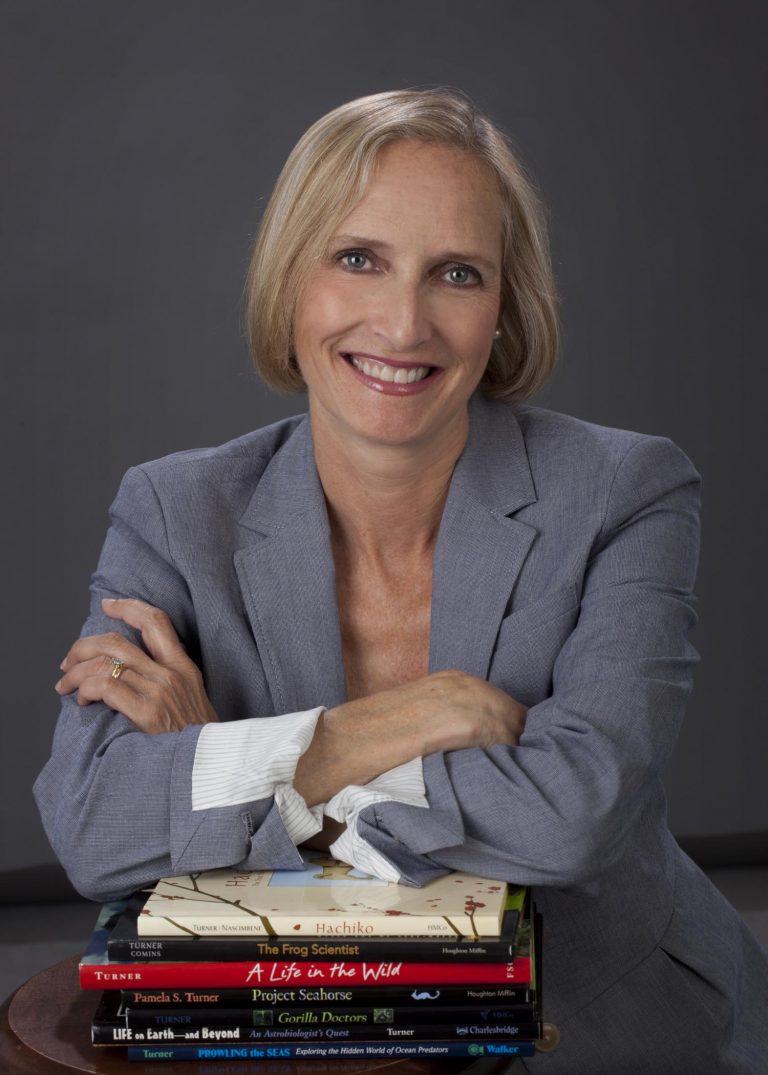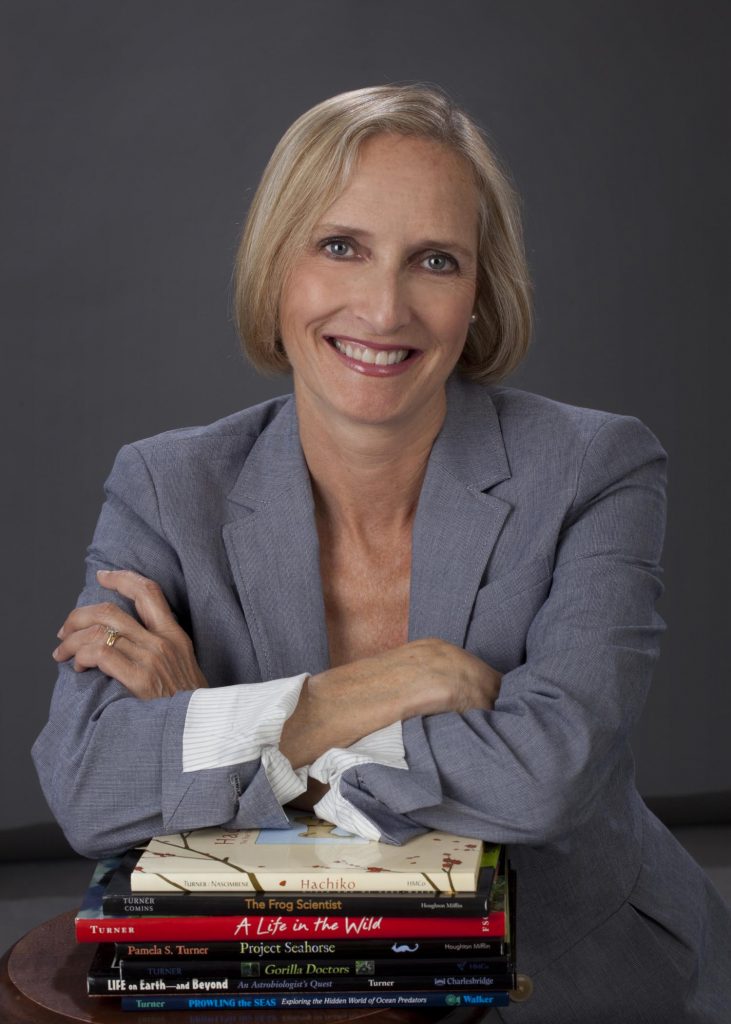 Pamela S. Turner was an international health consultant and health policy researcher before turning to writing about science and history for children and young adults. Pamela's books, including Hachiko; Gorilla Doctors; The Dolphins of Shark Bay; A Life in the Wild, The Frog Scientist; and Crow Smarts, have won such honors as the Society of Children's Book Writers and Illustrator's Golden Kite Award, the AAAS/Suburu Science Writing Prize, and an Orbis Pictus Honor. Her most recent book, Samurai Rising: The Epic Life of Minamoto Yoshitsune is an ALA Notable Book, a YALSA Excellence in Nonfiction Award Finalist. Pamela lives in Oakland, California. Learn more at www.pamelasturner.com.
---
Click for more LITLINKS STEM + Literacy activities