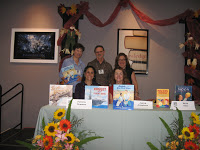 The San Diego County Library hosted Page One: A Celebration of Reading this weekend at the various libraries around the county. I spoke about my work and what it's like to be a writer as part of a panel with Edith Fine, Judith Josephson, Kathleen Krull and illustrator Paul Brewer.
The Vista Library is beautiful and featured gorgeous flower arrangements, goodie bags for the authors, book sales, and friendly company.
What a treat to be selected by the librarians as a favorite author and included in this special event!