Melinda Long used to play pirate. She buried her mom's earrings and drew a pirate map to find them!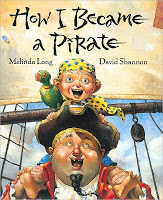 Although the inspiration for
How I Became A Pirate
came from Long's childhood pirate games, the seed for the story came from a conversation she had in Barnes & Noble with an acquaintance who mentioned that pirate books were hard to find. Long based Jeremy Jacob, the main character, on her childhood self. "It's my voice," she says, "and I really love him." But illustrator David Shannon created another of Long's favorite characters—the pirate with two eye patches. "He's always lifting one up to see. I just think he's hilarious. He's perfectly visual and is all [Shannon's] creation." In Long's third pirate book still in production, she had to think of a compelling reason for the pirates to return for their treasure; consequently, she researched what might have happened to their ship that would have required an expensive repair [excerpted from my
Melinda Long profile
].