---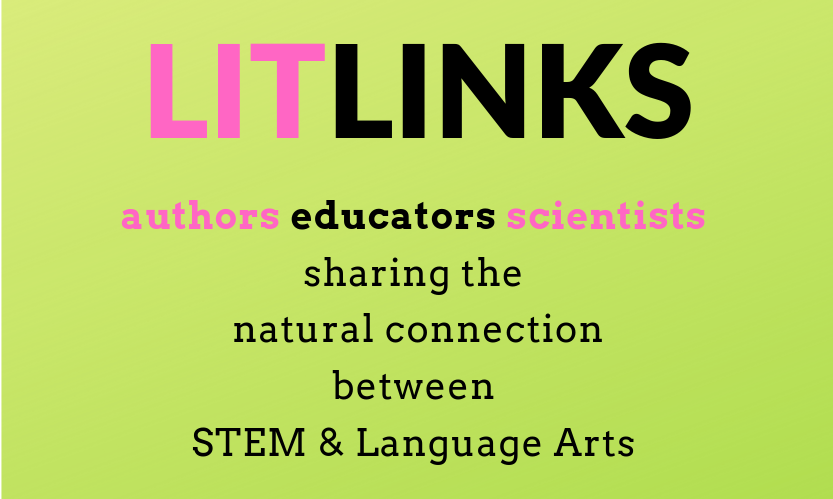 TODAY'S GUEST BLOGGER: DARCY PATTISON
---
Before you read
The narrative structure of CLANG! Ernst Chladni's Sound Experiments makes it ideal for grades 2-4 who are studying sound and also studying narratives. It can be used as a mentor text for timelines and inspiration for onomatopoeia. It's the story of the Father of Acoustics. His sound experiments were so fascinating that even an Emperor wanted to see them.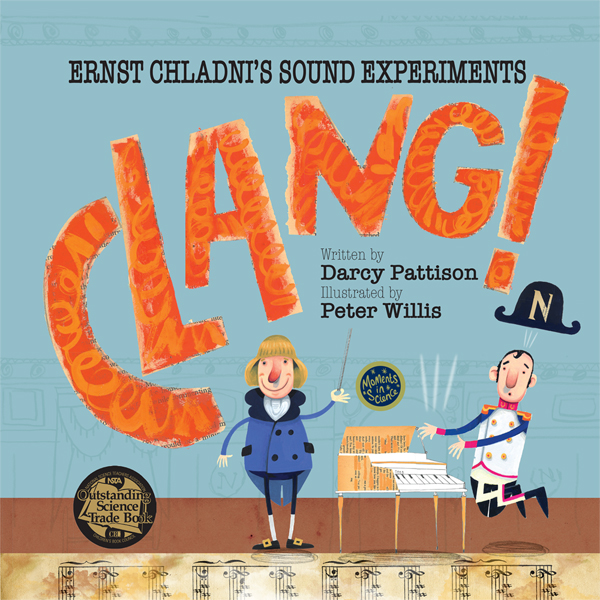 Elementary Science–Sound Waves & Vibrations
Start with a collection of instruments and sound makers. Let students make sounds and observe how the sounds are made. They should notice that sound is made by vibrations or waves in the air. This can happen with vibrating string/wire, columns of air, or solids. Discuss their observations and help them write a definition of sound.
What Vibrates in Musical Instruments?
Strings – instruments such as the guitar, violin, and harps create sound by vibrating strings. The sound changes as you change the length of the string.
Columns of Air – instruments such as pipe organs, flutes, and trumpets create sound by vibrating columns of air. The sound changes as you change the length of the column of air.
Solids – instruments such as xylophones, cymbals, and maracas create sound by vibrating solids. Tuning forks are another solid to create sound waves. The solids can be stone, wood, or metal.
Next, introduce Clang! Ernst Chladni's Sound Experiments by reading the title and the names of the author and illustrator. After showing your class the full cover, front and back, encourage students to predict the main idea of the book.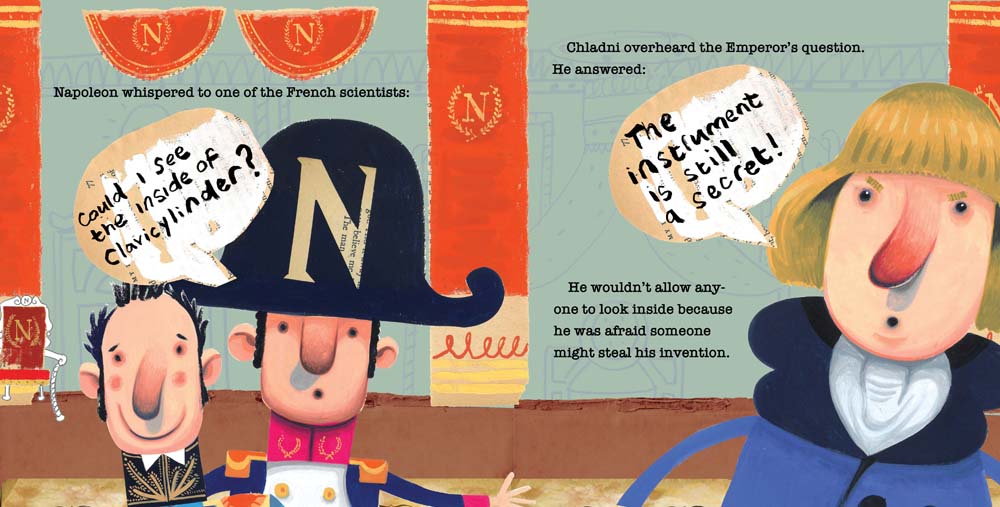 As you read
Work with your students to create a time line of Chladni's work on sound. Look at a map of Europe and trace his travels. How long was Chladni gone from home?
On pages 8-9, Chladni had two problems. Discuss how he could solve these problems before turning the page.
Page 11 includes specific details about when and where Chladni's visit to Napoleon's court took place. Discuss why it's important to include specific details in a narrative.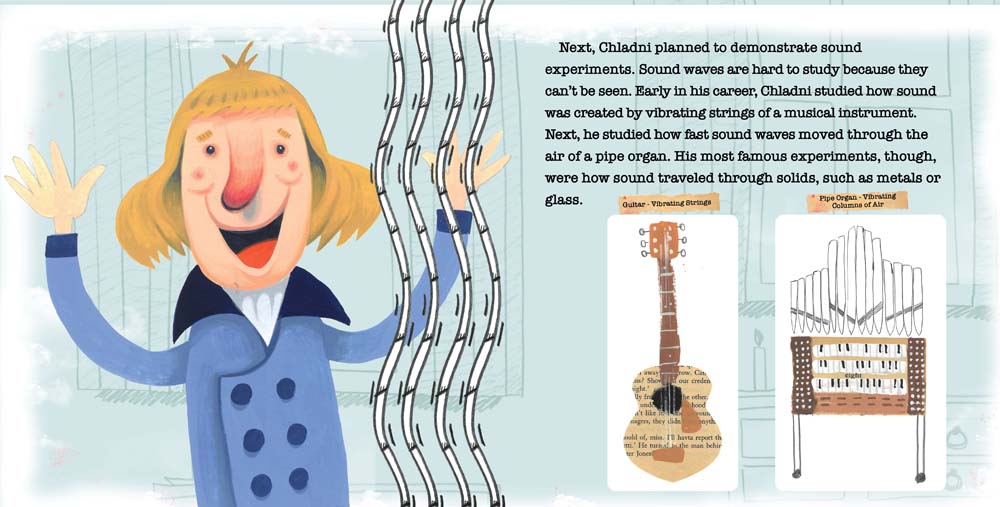 Page 12 labels the people who were present when Chladni visited Napoleon. Why would the author/illustrator choose to label them like this? (Answer: It's a short, easy way to include the names. Putting the names into the narrative would slow it down.)
In pages 16-17, the story is written from a first-hand account that Chladni wrote for a music magazine after visiting Napoleon's court. He's very careful how he describes the Emperor Napoleon playing his instrument. The story says, "Napoleon banged on the keyboard!" Why would Chladni need to be careful in how he told this part of the story?
On pages 18-19, the illustrator has used speech bubbles and handwritten text for the dialogue. Discuss why he might choose to do this.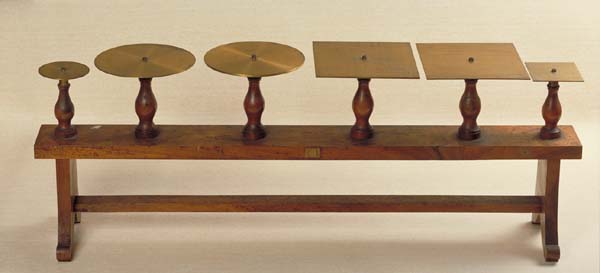 After you read
Discuss the differences in languages. How do French and German sound different. If possible, play recordings of a familiar passage or song in different languages.
Why is it important for scientists from different countries to cooperate?
What did you learn about sound? How did the story introduce facts? Look at your definition of sound. After reading, how would you change it?
What did you learn about how scientists were paid for their work in the early 1800s? How is that different from today? Are some scientists paid by universities? Are some paid because they are entertainers?
This story has a narrative nonfiction writing style. How would it be different if it was a problem-solution style? Or a question-answer style?
Does the text's voice match the illustrations by Peter Willis? Explain.
Think of a different way to end the story.
As a companion book, read Nothing Stopped Sophie: The Story of Unshakable Mathematician Sophie Germain by Cheryl Bardoe. Chladni didn't understand all the math behind his acoustics. This story tells about the French woman who finally figured out acoustics math and won a large cash prize.
---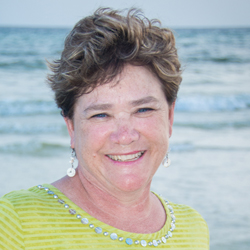 Storyteller, writing teacher, Queen of Revisions, and founder of Mims House (mimshouse.com) publisher, Darcy Pattison has been published in ten languages. Her books, published with Harcourt, Philomel/Penguin, Harpercollins, Arbordale, and Mims House have received recognition for excellence with starred reviews in Kirkus, BCCB and PW. Four nonfiction nature books have been honored as National Science Teacher's Association Outstanding Science Trade books: Desert Baths (2013), Abayomi, the Brazilian Puma (2015), Nefertiti the Spidernaut (2017), Clang! Ernst Chladni's Sound Experiments (2019).
---

Click for more LITLINKS STEM + Literacy activities