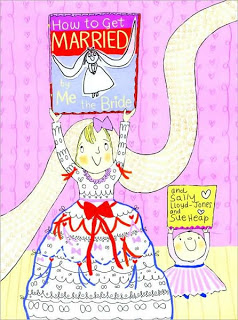 How to Get Married by Me, the Bride
by Sally Lloyd-Jones and Sue Heap
My favorite part of the book is when they put on the
invitation RSVP that means call to come. That's my favorite part of the book
because my mom always puts RSVP on everything. The part I don't like is when
they give teddy bears for the proposal because it gets annoying. My favorite
character is the bride. She wears a pretty dress with ballet shoes, a crown,
and a long veil. The bride's maids wear the same thing. My favorite funniest
part is when the guy gets mad at them and the baby is eating candy and they get
it all over their faces. I think the bride would yell at the guy,  don't share your chocolate with the baby! The
funny part of the book is the baby is wearing a mustache. You should read this
book It is really funny. The end.