Amanda,  age 8
Squirrels on Skis by J. Hamilton Ray
"I read Squirrels on Skis. My teacher wanted me to do a diorama. I picked the scene where the girl and the bunny are trying to make the squirrels go away. The squirrels were skiing and they smelled some acorns and hot chocolate cooking. They skied to the place that they were cooking at in the forest. They found a bunny and a little girl. The squirrels waited for some food. The squirrels ate hot chocolate and acorns that the girl gave them.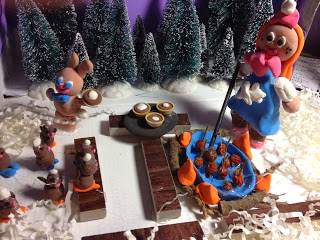 "I used fake trees and hot glued them to the bottom of the shoe box. I painted the bottom of the box white so it would like snow. I painted the back of the box purple to look like night. I made the creatures and the girl out of clay. I used white paper to look like snow was on the sides. The hot chocolate is really wood (for the cups) and inside is clay. I got the acorns outside in my backyard. The brown benches are scraps of tile from my Grandma's new kitchen."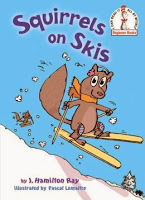 Amanda received an "outstanding"–the highest grade–on her project. Keep reading, Amanda!
Kids on KidLit is CCSS-aligned and gets students reading and writing. Send your writing project to me and I'll post it on my blog