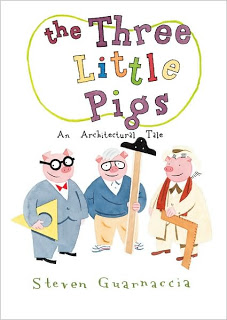 Mrs. Tidwell's Kindergarten Class (ages 5-6) at Cambridge Heights
Elementary School in Citrus Heights, CA reviewed
The Three Little Pigs: An Architectural Tale
by Steven Guarnaccia
Our Kindergarten
class has been reading different versions of the Three Little Pigs tales. We
loved this book because it was about building the houses. We learned about
three famous architects named Frank Gehry, Phillip Johnson, and Frank Lloyd
Wright when the pigs made their houses look like the architects' homes. Our
favorite part is the surprise ending!
Win FREE books! Enter a Kids On KidLit review today! Rules and instructions