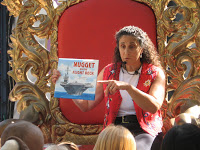 Sitting in the gigantic throne at Fairytale Town and reading to the hundreds of children who come out for the annual book celebration is always a highlight! This year, I presented a few pages from my newest book, Nugget on the Flight Deck. We talked about the size of an aircraft carrier — the flight deck is almost twice the size of Fairytale Town and the carrier is as tall as 24 of their school buildings stacked on top of one another. We could have used a cool ocean breeze though, as the thermometer topped out at 100 degrees.
Following my presentation, I changed hats and volunteered at the
SCBWI
table (So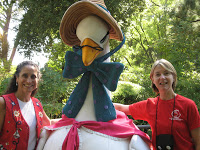 ciety of Children's Book Writers & Illustrators) where we presented a literacy activity for the children and their parents. The table was staffed by several wonderful volunteers. Here, my co-Regional Advisor
Erin Dealey
and I pose with Mother Goose.