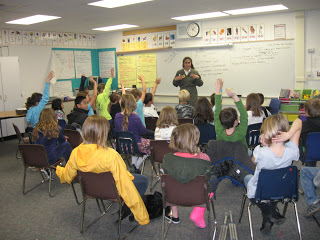 At a recent school visit 25 sharp third, fourth, and fifth graders discovered first-hand how authors create compelling characters. By the end of our 60-minute session, we had brainstormed and argued about the sex of our character, her back story, her age, her emotional state, and her conflict. I lead the discussion with open-ended questions that mimicked questions I ask myself when creating a character. The students' ideas could not be contained on one white board! Their hands shot in the air with the urgency of their ideas. The creative energy crackled. Isn't the thrill of discovery what writing's all about?
In order to participate, students completed an application explaining why they wanted to attend the workshop. Here are some of their responses copied exactly as they wrote them:
Sophia #1:  One of the biggest problems in my writing is putting in emotion. I am hoping this class could help.
Cody:  I would like to have my writing and reading skills to expand to greater hights then I could ever imagine.
Isabelle:  I want to be a author gist like you. I write and I write but I gist don't git it.
Jenna:  I think you should pick me because I'm smart, kind, and I can read two chapter books two weeks.
Joshua:  Every day I spend my lunch recess in the library and read…
Annalise:  I wold like to because when I grow up I want to become a author.
Sophia #2:  First of all it's a honor to be chosen. One reason is because I love to write, LOVE to write. Writing is one of my favorite subjects.
Dayla:  I would also like to know how you come up with such great books because I would like to learn how to write good books like that.
Malina:  Every day in class I help my friends read since they have trouble sometimes.
Paige:  I'm working really really hard on righting a good book.
Mikayla:  I would also like to know how authors even make the characters in books.
Damian:  I want to know how an author creates a character that I feel is alive.
Avery:  I would like to know how to write a book your way.
Charisma:  I don't want to do school work because most of it is hard.
Ayden:  I write little comics for myself.
Brennen:  I think it would be really fun to go and brainstorm with a real author.
Kiley:  I think it would be a great opportunity to have fun.
Jacob:  I want to express myself. I am very creative.
Aleah:  I am writing a book but I always have trouble coming up with names and characters. I am positive that this workshop would be the perfect place to learn about characters.
Emily:  Writing books as an author is my dream job in the future.
Kobe:  I would like to attend because I love thinking, writing.
Sabrina:  I want to express my passion to write and I really want to be chosen to learn about writing and becoming an author.