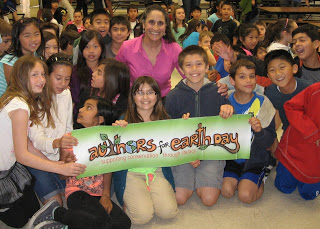 Authors for Earth Day fans
I celebrated Earth Day with the students at Genevieve Didion K-8 in grand style. The students were curious, the faculty welcoming, and the PTA lunch outstanding (with linen and china, no less)!
To commemorate Earth Day, the students, staff, and I participated in Authors for Earth Day, a grassroots coalition of award-winning children's authors and illustrators who help young readers shape the world around them. The day focused on the type of literacy we associate with reading and writing, but also environmental literacy. Prior to my visit, I forwarded to the students a list of five non-profit conservation organizations I would consider supporting. On Author Day, the students voted and the votes were tabulated.
Using Jingle the Brass (and willing volunteers)
to demonstrate a railroad concept
Each assembly and writers' workshop throughout the day began with the exciting announcement that 50% of my Author Day fee will go to…(drum roll, please)…the Ocean Conservancy in honor of the students and staff at Didion K-8.
Book your 2014 Earth Day visit now to celebrate the release of my new ocean science book (to be announced soon)! Visit my website or my A4ED page.