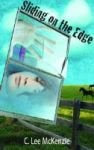 From Lee: Sliding on the Edge is kind of gritty in parts because Shawna, the young main character, has been lied to, abused, and abandoned. When she lands in a rural town and meets her cynical grandmother for the first time, there's a lot of abrasion between the two.
It's this connection between generations that I loved writing about. I liked letting Shawna make her bumpy coming of age journey and have it parallel that of her grandmother's. I wanted to show that it's never late to grow and develop into your full potential.
This is my first novel and it's been great fun to write and then guide it through the publication process. I've learned so much and that's what I really enjoy about this second career. I used to teach at a university, then I did program administration, then I actually built web sites (not well—I'd give myself a middle to low C.), so changing jobs isn't a new concept in my life. I'm still not sure what I want to do when I grow up yet, but I do like trying to find out.
Sliding on the Edge
by C. Lee McKenzie
Westside Books
Released May 30, 2009
YA