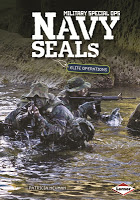 Help me celebrate the release of my two newest books:  
Navy SEALs: Elite Operations
 and
Army Special Forces: Elite Operations
and their
Common Core-aligned teacher guide
. These books are sure to engage even the most reluctant of readers!
Here's the official description:
Navy SEALs: Trained to fight at sea, in the air, and on land, U.S. Navy SEALs tackle the toughest of missions. They are masters of underwater combat, fast-roping from a hovering helicopter, and demolishing enemy weaponry. Learn how Navy SEALs are taught to think like scientists and perform like soldiers as they track down terrorists, rescue hostages, and venture into enemy territory to gather critical information.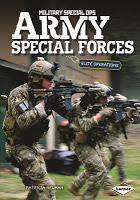 Army Special Forces: Hunting down terrorists. Rescuing prisoners of war. The highly trained U.S. Army Special forces carry out these and other secret missions around the world. Skilled in fighting as well as diplomacy and foreign languages, they are ready to go undercover into dangerous territory at a moment's notice. Discover how these elite forces fight for our freedom every day.
With vivid photos and engaging text, the Military Special Ops series covers exciting information about the U.S. military's special operations forces – highly trained units that perform unconventional, often high-risk missions. Each book introduces one group's position in its military branch, as well as its key functions. Each book also details the group's uniform, special equipment and gear, and techniques and tactics. A final chapter covers the training and skills needed to excel in each special ops group and how to pursue a career in this area.