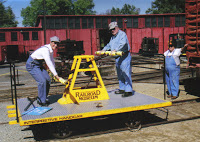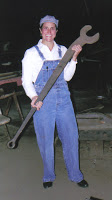 The California State Railroad Museum is the perfect venue for a reading of Jingle the Brass, and their October 13 fall festival was no exception. Loads of kids and parents stopped by to 'climb aboard and ride the point' with me. Together we found out how railroaders used to talk, and performed several skits acting out some of their jobs in between rides on an authentic steam train.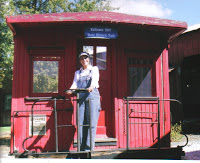 Enjoy the photos of my visit to Railtown 1897. Clockwise from top left:
1) Pumping a hand car with a museum docent.
2) Holding a HEAVY locomotive wrench weighing about 50 pounds!
3) Signing books for the museum store.
4) An enthusiastic fan helps with my reading.
5) Turning the hand brake on a caboose.