An article in my local paper first planted the seed of an idea for a book for kids about ocean plastic. The article described a group of graduate students who mounted a 21-day expedition 1,000 miles into the North Pacific to study the problem of floating plastic. Annie Crawley, ocean photographer, went with them to chronicle their efforts.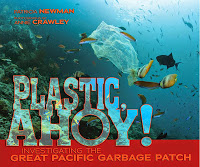 Since the publication of Plastic, Ahoy! Investigating the Great Pacific Garbage Patch, Annie and I have performed countless presentations about our relationship to ocean plastic. Kids and teachers have contacted us about what they are doing to help. And Annie has announced a new campaign to visit 100 schools in 100 days to spread the word about five simple things we can do to save the ocean.
Our ocean is a vital resource to us. It gives us 50-70% of our oxygen, holds 98% of our planet's water, and feeds our world. Without the ocean, there would be no us.
Consider these three R's
Rethink (your relationship with plastic)
Refuse single use plastic #RefuseSUP
Raise your voice and share with friends, family, your community. Share your stories as you participate in solving ocean problems #LoveOurOcean