Did you  know Loretta visits schools dressed as a colonial woman?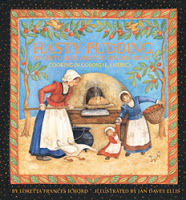 During a visit to Colonial Williamsburg, Ichord imagined herself sweating in front of one of the stone fireplaces in the intense humidity of a Tidewater summer. "I started to wonder how American cooking began," she says. "The era really grabbed me." Originally Ichord submitted Hasty Pudding, Johnnycakes, and Other Good Stuff: Cooking in Colonial America (Millbrook Press, 1998) as a cookbook with 40 recipes and several notes to the editor about the time period and the difficulties colonial women faced in the kitchen. The editor loved the quirky historical information that would become a trademark of Ichord's books, and suggested changing the format of the book from cookbook to cooking-history book. 
Hasty Pudding
now includes several pages of historical text sprinkled with 14 colonial recipes. But the revision wasn't as easy as it sounds.
Ichord struggled with the new format, finding just the right balance of history and recipes. Her biggest problem? Trimming the manuscript to a manageable size. She uncovered a wealth of historical facts that she had a difficult time parting with. Additionally, Ichord says, "Recipe writing is exacting." The directions had to be clear for children (who generally have no experience in the kitchen) without being boring or wordy. [Excerpted from my Loretta Ichord profile.]