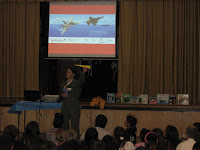 Nugget on the Flight Deck demo:
Mookie gives Gutts and Nugget
the old scissors move.
The students and faculty at David Lubin Elementary School in Sacramento welcomed me with smiles, questions, and a love of reading. The perfect combination for a successful author visit!
I'm a nonfiction author at heart–even my fiction is based on careful research. Curiosity. The willingness to hunt for great information. The desire to ask questions. These are the hallmarks of a writer, and I encouraged David Lubin students to jump in with both feet and write what they don't know. Sure it's a little scary, but since when isn't writing scary?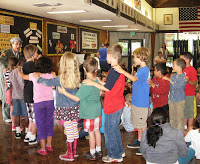 Jingle the Brass demo:
Inspecting cars for sticking brakes
Especially teaching it! At lunch a few teachers and I discussed the linear way in which writing is taught in schools–a process completely foreign to my own. During my character workshop with third graders, I suggested that perhaps instead of starting with an outline of the plot, start with character. The plot forms organically from the character's desires and problems.
At the close of the 5th and 6th grade assembly, I received some unprompted praise from a 6th grader. (Remember, most 6th graders are too cool for picture books.) He said, "You're a great writer, Mrs. Newman. I loved Nugget on the Flight Deck."
If I can reach one student on that level during each author visit…if I can get a student to admit that they love ONE book–any book–it fuels my fire to keep writing.

Current titles–watch for 4 more titles in the fall of 2013 and spring of 2014