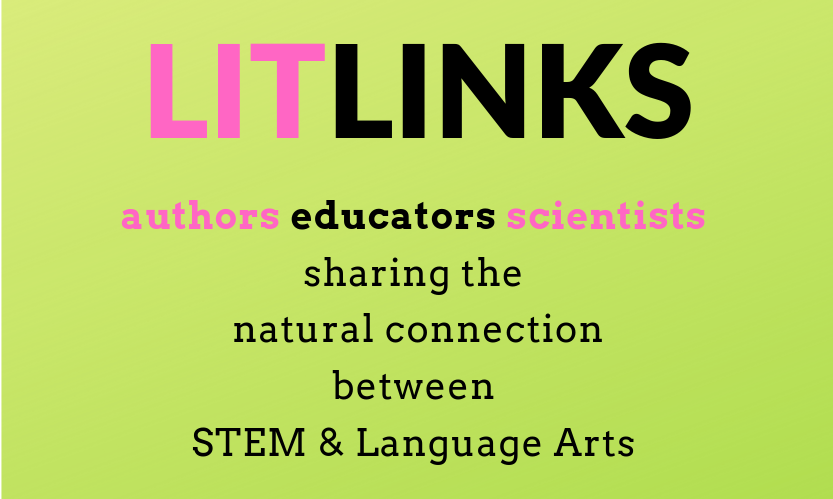 GUEST BLOGGER HEATHER FERRANTI KINSER
---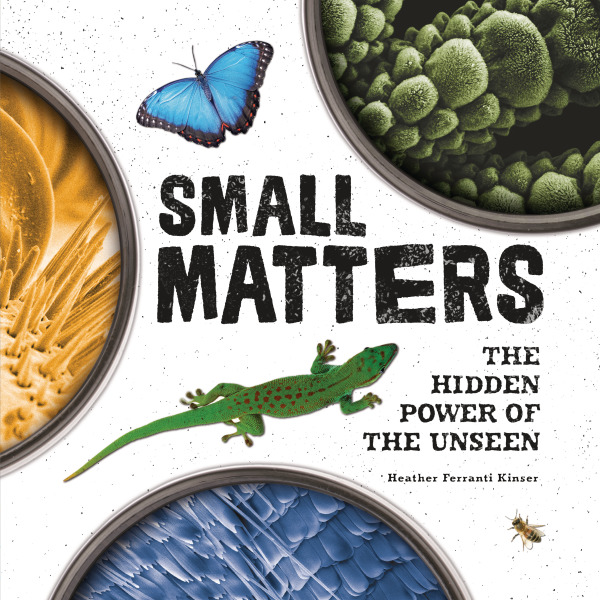 I'm Heather Ferranti Kinser, author of SMALL MATTERS, a STEM picture book about incredible animal features we can see through scanning electron microscopes.
Here are two projects to get students thinking about the importance of small adaptations in the animal world and how they relate to engineering innovations. For all activities, begin by reading SMALL MATTERS: THE HIDDEN POWER OF THE UNSEEN (Millbrook Press, 2020) with your students.
Small becomes big
For many years we learned about small things by looking through light microscopes. Now we have a more powerful microscope that helps us see much smaller details—at the nanoscale (a nanometer is one billionth of a meter). The scanning electron microscope (SEM) uses an electron beam to map the surfaces of tiny objects, and a computer interprets the data to produce a high-resolution image.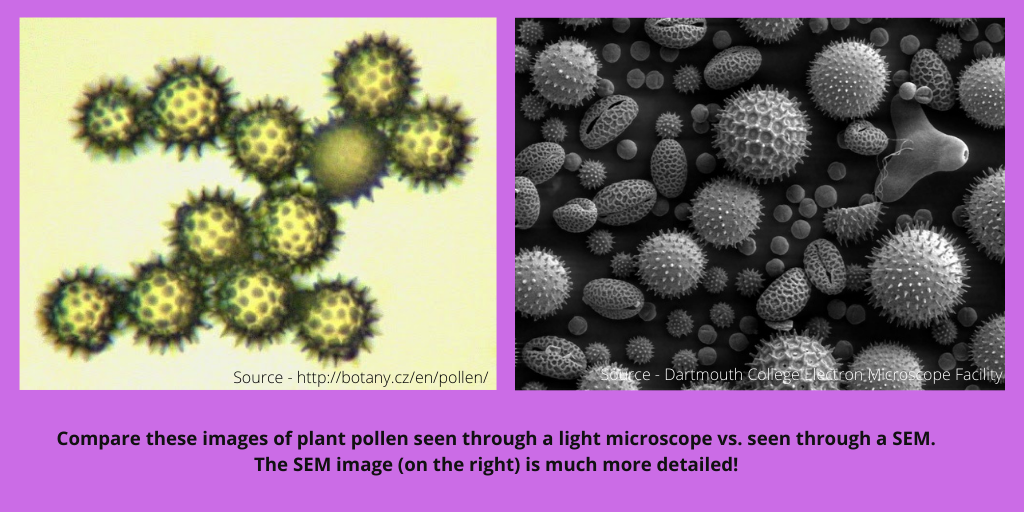 Activity 1: Let's get flashy!*
In this activity, students will draw a picture and add a shimmery effect to it by capturing a thin film of clear nail polish from a water surface. Then they'll observe the results and write about what they see. They will have created a "thin-film reflector"—an adaptation they might recognize from the blue morpho butterfly in SMALL MATTERS.
Supplies
clear nail polish (or clear top coat)
a few 3×4 inch slips of paper, cut from a brown grocery sack
Sharpie markers, crayons, or colored pencils
a shallow container, just big enough to hold an inch of water and the slip of paper
water
a paper towel
Method
Make a few simple drawings on your papers (suggestions: butterfly, beetle, bird).
Fill your container with 1 inch of tap water.
Dip the nail polish brush into the clear polish. Hold it over the container of water and let one single drop of polish fall. After a moment, you should see the polish spread over the water's surface.
Now try to capture the thin film of nail polish on one of your drawings. Starting from the back of the container and working toward you, lower an edge of your paper into the water. (Make sure the picture you drew is always facing you.) Guide the paper along, just under the water surface, allowing the thin film of nail polish to lay across it as you go. Smoothly pull the paper out from the other side. (Don't worry if the whole drawing isn't coated. The polish may only cover part of it.)
Lay your picture face-up on a paper towel to dry.
Repeat Steps 3-5 for your other drawings.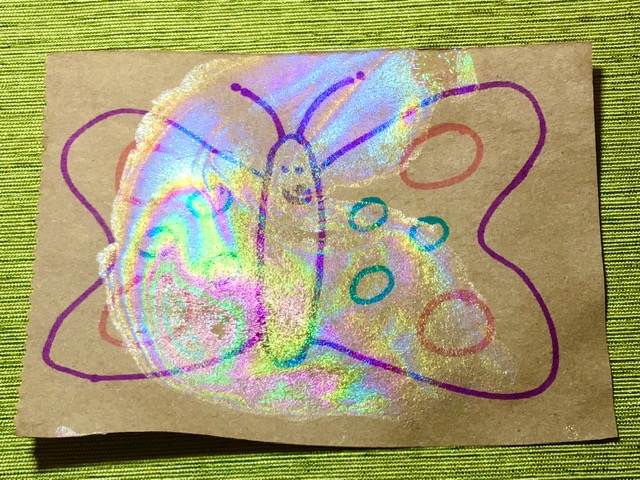 Observation
Ask students to observe their finished drawings and write about what they see. If they shine a light on their drawings, what happens? Do they have any theories about why they see what they see? Does it remind them of any animal they read about in SMALL MATTERS?
Discussion
Explain that ordinary light ("white light") contains many colors. If white light strikes a thin, reflective surface and bounces off, we see one or more colors reflected back—like the brilliant blue of a morpho butterfly wing.
Remind the students that blue morpho butterflies flash a radiant shimmer of color, thanks to super-thin, light-reflecting structures in their wings. The students just created their own "thin-film reflector" on the surface on their paper. The film is only a few hundred nanometers thick, but it causes us to see light in a flashy new way!
* Credit: Art Corps and their "Iridescence Art Project" video.
Activity 2: Using SEMs to solve engineering problems
For this activity, students will use the Small Matters Engineering Worksheet (available here as a PDF file), which asks them to think about five engineering problems and consider which nanoscale animal adaptation might help solve each problem.
Start by explaining that engineers and inventors sometimes observe animal features very closely and find ways to copy them. The word for this is biomimicry—from "bio" meaning life and "mimic" meaning to copy. Scientists and engineers work together to find biomimicry solutions to challenging problems.
Ask students to help you list of all 11 animals discussed in the book SMALL MATTERS [limpet (or sea snail), shark, blue morpho butterfly, bird, snake, water strider, bee, cat, cicada, toucan, gecko]. Write them down where everyone can see, for reference.
Next, ask your students to read the worksheet and fill in their best guesses.
Finish by providing them with the answers [1) limpet (sea snail), 2) gecko, 3) toucan, 4) cicada (or possibly water strider), 5) blue morpho butterfly, Bonus Question) cicada & water strider] and discussing whether small things MATTER. Hopefully, students will conclude that small things DO matter, in more ways than one. Nano-scale features help animals survive and thrive, and they can also help humans solve problems and develop useful innovations.
---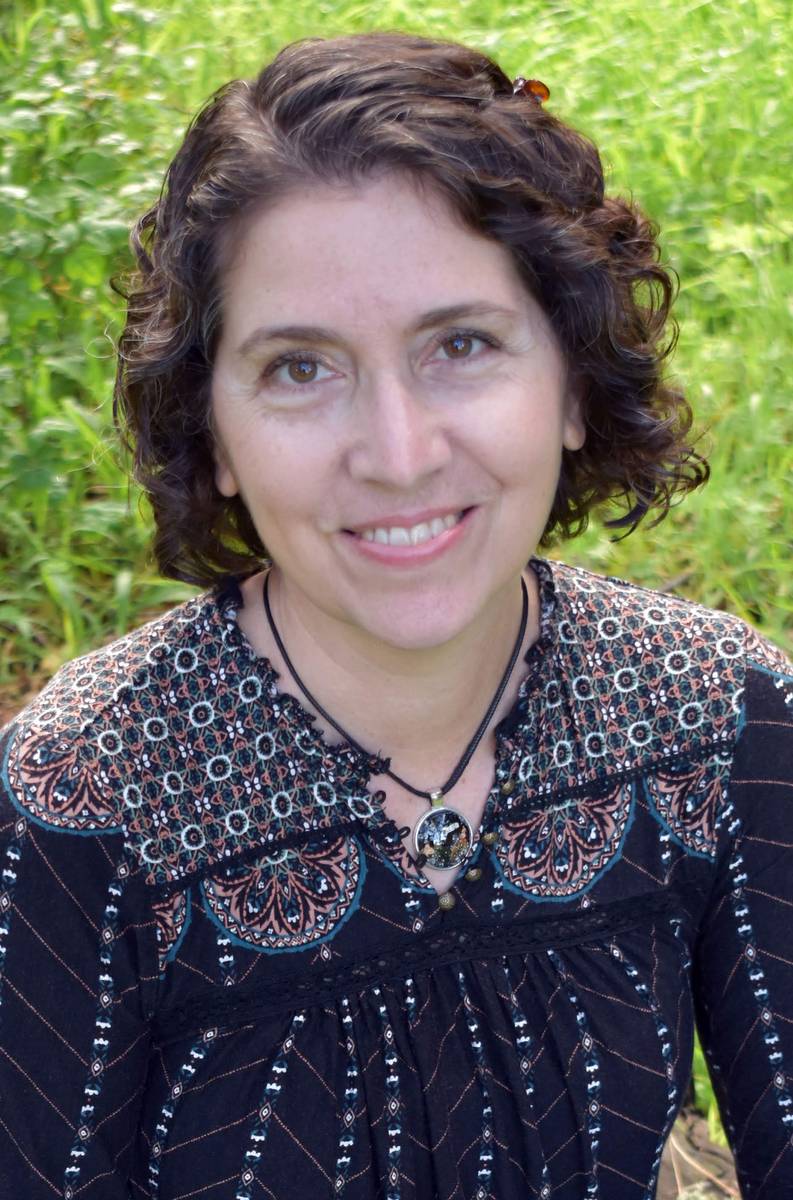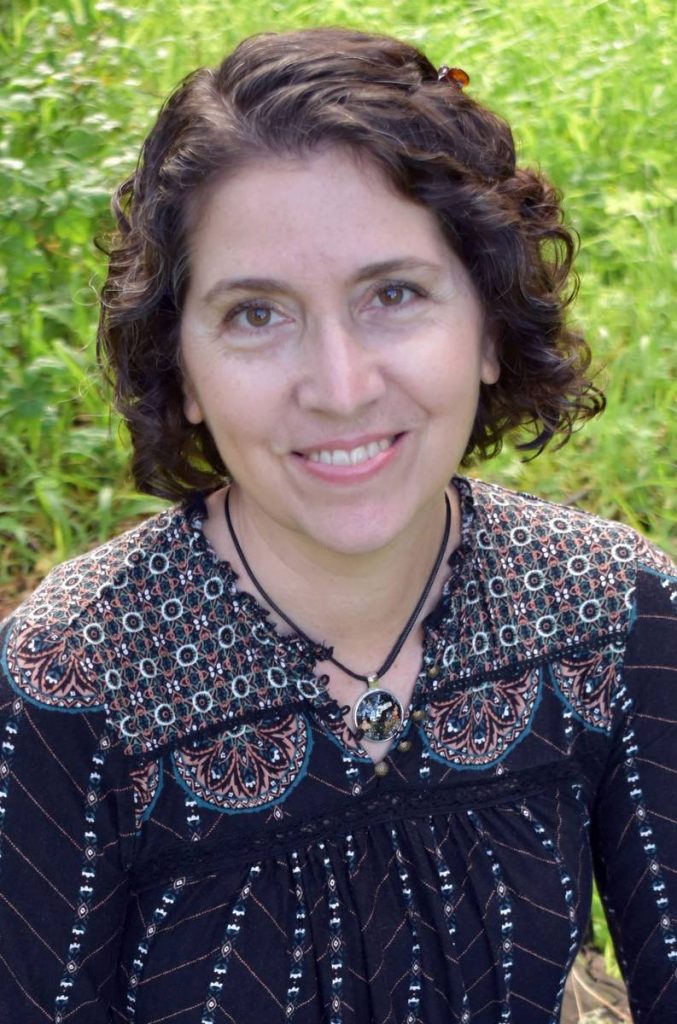 Heather Ferranti Kinser writes at the intersection of story, poetry, and nature from her home on the San Francisco Peninsula. She's a former technical editor who now spends her days writing small stories—to make a big difference for kids! She also enjoys listening to podcasts, making pesto for her family, and watching her golden mystery snail eat algae off the aquarium wall. SMALL MATTERS, which started as a 50-word poem, is her first book. Keep in touch at HeatherKinser.com or @hethfeth, and stay informed about Millbrook Press and their parent company by following @LernerBooks. SMALL MATTERS is available at the Lerner bookshop and through all major distributors.
Featured image credit: "Blue Morpho Butterfly" by diana_robinson is licensed under CC BY-NC-ND 2.0
---
Click for more LITLINKS STEM + Literacy activities