GUEST BLOGGER NANCY CHURNIN AND SHAYNA VINCENT
---
When Shayna Vincent was diagnosed with breast cancer, she couldn't find a book that explained to her young daughters what they should expect and how they could help. Working with award-winning children's book author Nancy Churnin, Shayna co-authored Mama's Year with Cancer, the book she wanted to see in the world, telling the story of a parent's journey with cancer from her child's point of view as they wait until Mama can ring the bell, signifying her treatment is over. Shayna and Nancy hope you will use this book as an opportunity to talk about what cancer is, to dispel myths about it, and to discuss ways to support people in your community.
Start with some basic definitions
To talk about cancer, you have to explain what it is. To do that, you must first explain what a cell is.
Cells are small units that make up all living things, including the human body. There are billions of cells in each person's body that grow and divide. Normal, healthy cells know when to stop growing. Cancer cells, in contrast, grow out of control.
Cancer occurs when a group of cancer cells multiply until they become tumors that replace normal cells and disrupt normal cell tissues and tissue function. When someone has cancer, doctors try to eliminate or remove the cancer cells using surgery or medicines called chemotherapy and medical treatment called radiation and often with a combination of all of these. Chemotherapy and radiation attack cells that multiply quickly. That helps eliminate cancer cells, but it also attacks normal cells that multiply quickly like hair, digestive cells, and blood cells, including the white blood cells that fight infection. That is why a patient having chemotherapy and radiation treatment will lose hair, have an upset stomach, and have trouble fighting germs.
Uncomfortable as this treatment can be, it is important because if not stopped, cancer cells can break away from the original tumor and travel to other areas of the body where they keep growing and form new tumors. When cancer cells spread, that is called metastasis. The more cancer cells spread, the harder it is to get rid of them and the more damage they can do.
Use models to explain
Make models that show how cells are made up of three main parts: the cell membrane which surrounds the cell and controls the substances that go in and out; the nucleus, which is a structure inside that cell that contains the nucleolus and most of the cell's DNA; and the cytoplasm, which is the gel-like fluid inside the cells where chemical reaction occurs.
Make models of cells from construction paper, felt or foam or by using modeling clay. Have students make a key so others will know what the parts represent on their models.
Make a "pizza" cell. Make a pizza using the round crust to represent the cell membrane, with the sauce and cheese as cytoplasm and toppings as the nucleus. Bake and enjoy.
Make a "cookie" cell. Use cookie dough as your cell membrane, frosting as the cytoplasm, and candies as the nucleus
Make a "bread" cell, spreading the bread with peanut butter as the cytoplasm and adding raisins for the nucleus.
Blow bubbles. Tell the students that the bubbles are the cancer cells that could get into the cells and spoil them. Have them pop the bubbles. Explain that chemotherapy and radiation are the tools that medical professionals use to "pop" cancer cells.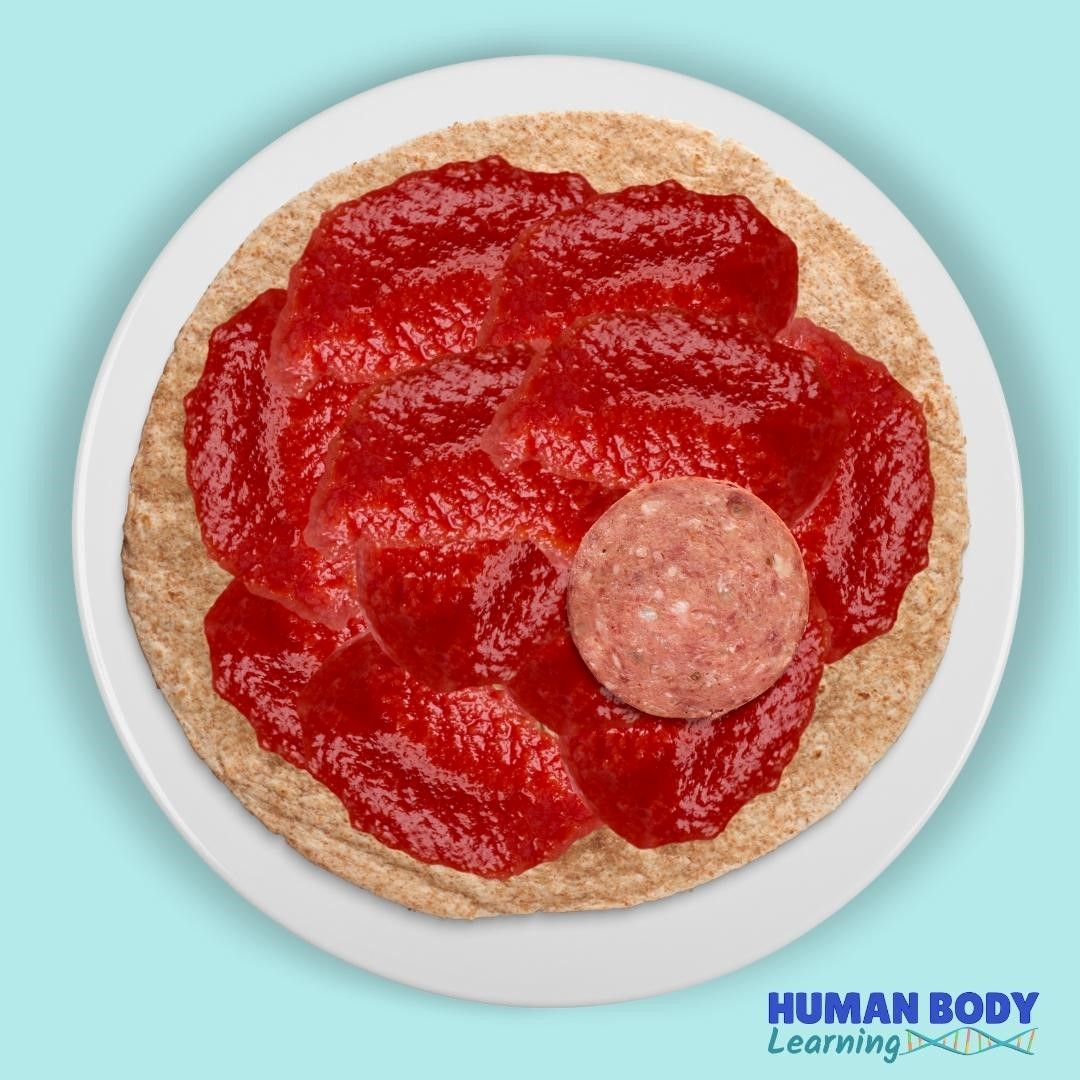 Use a flowchart to describe the journey
Make a flow chart that explains the cancer journey from diagnosis to treatment.
Diagnosis of cancer, usually involving X-rays and blood tests.

Sometimes an oncologist — a doctor who treats cancer — will do a biopsy. That means the doctor will surgically remove a piece of tissue or sample of cells so it can be examined under a microscope.

Treatment: surgery or chemotherapy or radiation or a combination of some or all.

Sometimes chemotherapy medicine is given as a pill, but usually it is given as a liquid from a bag that drips down an IV through a "port"– a small hole made in the patient's body.
Radiation uses high-energy waves that are invisible to the eye to damage and destroy cancer cells.
The treatment, while necessary, can cause a loss of appetite, exhaustion, irritated skin and hair loss. A child with cancer might need to miss school to rest while undergoing treatment. An adult with cancer might need to miss work.

When treatment is completed, patients may get to ring a bell. This is a happy time! When the treatment has ended, hair will start to grow back.
Once a patient's cancer is gone, they are in "remission." The patient will continue to be checked to make sure the cancer doesn't return. If cancer does return, they will need to start treatment again.
True or false
Cancer is catching. False.

You can talk to, play with and hug someone with cancer. Just be careful if YOU have a cough or cold. Not only can't you catch cancer, a person with cancer has reduced resistance against illness and is in danger of becoming ill from you.

Accidents cause cancer. False.

No one knows what causes cancer. Some people may have a gene that makes them more likely to get it.

Once cancer is gone, you can forget about it. False.

Once cancer is gone, patients will need to visit their medical professional regularly to make sure it doesn't return.

You can laugh and enjoy your family and friends when you have cancer. True.

Support and fun with family and friends is some of the best medicine you can get.

Cancer makes you tired. True.

Cancer and the treatment for cancer can make patients in need of more rest. That is why it is so helpful to bring food or help with errands for families living with cancer.
Handwashing experiment
It is important in general to wash hands to get rid of germs so that you don't make yourself or others ill. It is especially important to wash hands before being in contact with cancer patients because it is easier for them to get ill than for a person who is healthy. Try this experiment to determine thebest way to get rid of germs:
Ingredients
3 tbsp cooking oil
3 tsp cinnamon
3 volunteers
cold running water
warm running water
soap
paper towels for clean-up
Procedure
Rub 1 tbsp of cooking oil each on the hands of the three volunteers.
Sprinkle 1 tsp of cinnamon in the oil each on the hands of the three volunteers.
The cinnamon represents the make-believe germs.
Ask volunteer #1 to wash hands by rubbing them together for 20 seconds using cold water and no soap.
Then, volunteer #2 washes hands by rubbing them together for 20 seconds using warm water and no soap.
And volunteer #3 washes hands by rubbing them together for 20 seconds using warm water and soap.
Whose hands are clean?
Who still has "germs"?
---
Shayna Vincent is an Oklahoma native who lives in Carrollton, Texas. She has a master's degree in alternative dispute resolution and serves as the director of professional development at the Caruth Police Institute at the University of North Texas at Dallas, where she develops and implements leadership curriculum for law enforcement personnel. Shayna married her high school sweetheart, Devon, and has two daughters, Mila, age eight, and Avivah, age four. This is her first book.
Nancy Churnin is an award-winning children's book author who writes books that inspire children to be kind and caring and persevere in pursuing their dreams. Among her honors are the National Jewish Book Award, Sydney Taylor Honor and Notables, South Asia Book Award, Junior Library Guild selections and multiple starred reviews. She is a New York City native who lives in North Texas. You will find free teacher guides and projects on all her books on her website.
---
Click for more LITLINKS STEM + Literacy activities