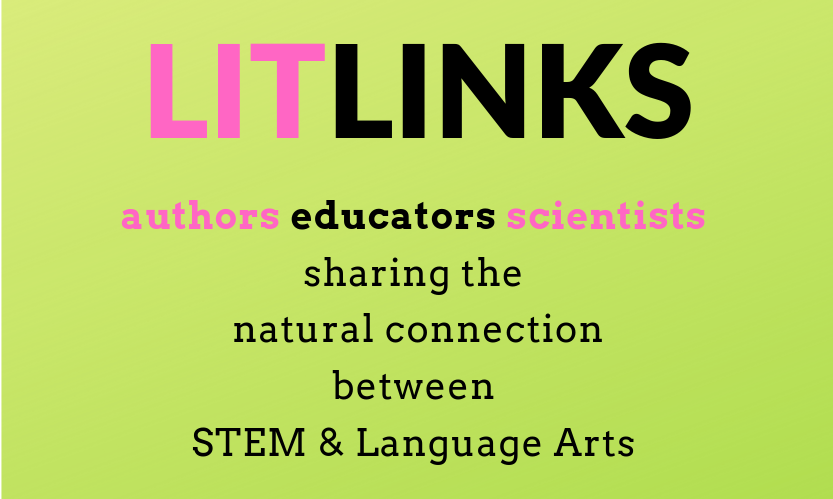 GUEST BLOGGER TAMMY RINKENBERGER
---
Students love to take action on global issues when they feel they can make a positive difference in the world.  In this unit students learn about the global issue of plastic pollution and then take action locally. In my International Baccalaureate (IB) Design Cycle class we explore issues using the four-step process of: Inquire and Analyze, Develop Ideas, Create a Solution, and then Evaluate the Solution.
Engage!
I started by reading two books:  All the Way to the Ocean and Sea Change, both written by Joel Harper. Sea Change was the class favorite because it didn't have any words, yet the author clearly communicated the story.  I then asked the students the question:  "Are you too plastic?"  Students were then challenged to do an audit of their family's own use of single-use plastics. When the students returned with their data they came to the conclusion that YES, we are too plastic, and then had the resounding question:  What can we do about it?
Inquire!
We started by inquiring about the issue by watching the movie Bag It. Then we conducted three science experiments from the Algalita Marine Research Debris Science Investigation Kit (pictured in featured image). One investigation focused on the effects of plastic density — whether plastics sink or float — and the impact that would have on various ocean life. The second investigation included examining and identifying actual samples of debris collected in the North Pacific gyre. The third investigation included locating the latitude and longitude of various ocean samples. We then mapped these samples to determine the global scope of the issue.
Inspire!
After investigating plastic pollution, students took action. In groups of three to four, students planned and carried out an action project. Several of my students wanted to teach what they had learned to the elementary students at our neighboring elementary school.  They decided they wanted to work with the kindergarten students. They created a story book, like the ones I had read them, to teach and inspire the younger students.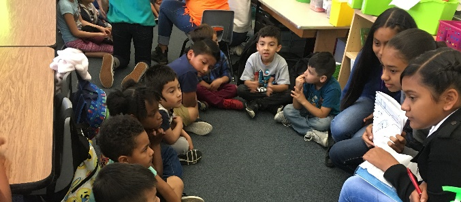 Students set out storyboarding their ideas— which I emphasized could not be all "gloom and doom". Instead, their story needed to focus on solutions to the issue. The ideas students generated were truly original and educational.  A couple of student teams started out writing children's books, but morphed their project into a puppet play complete with characters and their own stage.
The day came for my students to walk across the street to share their projects at the elementary school. My students were so excited to educate "the next generation" with their storybooks and puppet plays. Each group conducted a pre-survey before reading their book or performing their play. After their presentation, they did a post survey of their audience.  My plastic pollution warriors were delighted to see that they had taught others something they had learned about a global issue.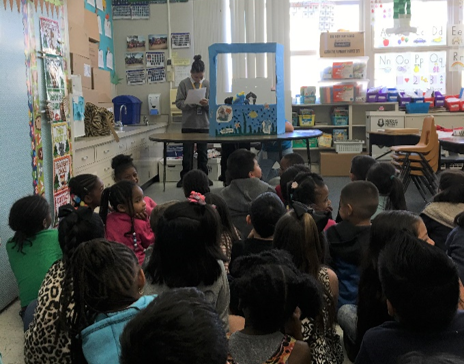 ---
Tammy Rinkenberger is an educator of 30 years who currently teaches at Cooper Academy, an International Baccalaureate middle school in Fresno, California. She teaches 6th and 7th grade science and may be caught spontaneously grooving to Meghan Trainor or Jack Johnson or traveling or hiking. Her inspiration to engage students in service-learning and taking-action on global issues started with my participation in the Monterey Bay Aquarium Ocean Plastic Pollution Summit teacher program. This has grown to include other subjects such as the global issue of inequality of access to education for girls.
---
Click for more LITLINKS STEM + Literacy activities