Connecticut librarian Jenny Lussier has done the impossible. She's convinced students to willingly skip part of recess to read! Learn more about Read Aloud @ Recess from Jenny herself:
Where would you imagine 60 3rd and 4th
graders would be during recess? Not many of you would come up with, "In the
library," but that is exactly what has been happening this year!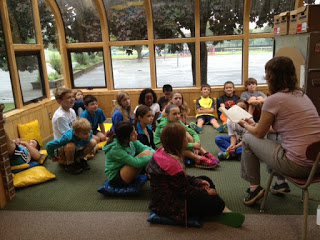 Jenny's beautiful sun room. Comfy pillows
and snacks provided!
Inspired by Julie Hembree, a K-6 teacher-librarian from the
Seattle, WA area, we began our own Read Aloud @ Recess as part of a renewed
effort to celebrate reading this year. Each Thursday, 4th graders come and get
comfy with a snack in our glorious sun room. We read aloud for about 15 minutes
and then I shoo them out to recess (I still believe in fresh air!) and then in
come the 3rd graders.
What fun we have been having! I was so nervous when I
started back in November. Would they really come? Would they stay? But as
usual, the students remind me of why I do this job. They came and they stayed.
And when we finished the first book, they immediately wanted to know what we
were reading next. They did! They wanted more! And my heart soared.
What have we been reading this year? Oh there are so many
amazing choices. I thought about so many books, ones that would appeal to a
broad audience. I had recently read Frindle by Andrew Clements with my son and
knew that this was the one! We have been working hard to talk with students
about their "on deck" book or "next read". Many of us have
TBR (to be read) piles, but so often, students do not realize how important
this is. I thought Andrew Clements, with all of his fantastic books, would be a
good choice that could lead to continued reading.
For our second round, the students and I suggested titles
and each group chose. Grade 4 is reading one of our Connecticut Nutmeg Book
Award books, Saving Armpit by Natalie
Hyde. Grade 3 chose another Andrew Clements book, School Story. We can't wait to find out what happens next!A couple of students have told me that they are simply coming for the snacks
and I am totally okay with that. One week we had apple cider donuts from our
local orchard – delicious! Another week we had brownies! What a pleasure it was
to hear all the "thank yous!" and "yums!" from the kids.
Why do I do read aloud at recess? Because every time
they stay and listen, there is just one more chance that one of them might
connect with a book. And that would be best of all!