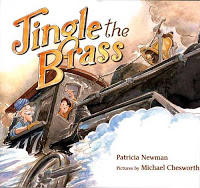 Train enthusiasts young and old are reliving the glory days of steam engines through the colorful lingo that belongs to railroading! Jingle the Brass relives the days when railroad men had a magical language all their own.
Step back in time to Ruby's hash house and put on the nosebag with the boss hog. He'll tell you he likes his eggs with headlights, but if you want scrambled, just order wreck on the main line. Follow him as he warms up his engine in the roundhouse and hitches her up to a rattling freight train. Ride the point and feel the wind in your hair as you gallop over the rails like a fiery stallion. It's sure to be the ride of your life!
So hand your keester to the baggage smasher, climb aboard the hog, and jingle the brass. Now you're railroading!